Rahul Gandhi, tragedy tourist – A grave disadvantage
The Telegraph, Kolkata
2nd September 2017
POLITICS AND PLAY
Ramchandra Guha
(Note: A very in-depth article by Ram Chandra Guha, eminent historian and writer, Congress had, over the years, "gone from the group that won India its independence, its accumulated goodwill giving it the government for [most of] the first fifty years of freedom, to being a national joke and irrelevance, one that cannot win even ten percent of the seats in the parliament. And still the remnants of the Congress cannot see past the blasted family, even past the present idiot son, who cannot open his mouth without uttering a fatuity. Without a strong opposition, it appears we are heading towards a Majoritarianism society, which does not auger well for the democracy of our country. Isaac Gomes, Church Citizens' Voice).
Cover photo: Book by Ram Chandra Guha, noted historian and writer.
After the horrific tragedy in the hospital of the Baba Raghav Das Medical College in Gorakhpur, the Congress vicepresident, Rahul Gandhi, visited the city. The Adityanath administration's culpability in the deaths of so many babies and young children had placed it on the backfoot. Here was a chance for an ambitious, energetic, politician to focus attention on the failures of the state government.
Such a campaign would have had countrywide resonance. For Uttar Pradesh is India's largest state. And it happens to be Rahul Gandhi's home state as well. Yet, he spent merely a few hours in Gorakhpur and UP before returning to Delhi. Shortly thereafter he proceeded to Europe.
The behaviour was in character. Back in June, five farmers were killed by the police in Madhya Pradesh. They had been part of a protest demanding loan waivers and better prices for farm produce. The agrarian sector was in deep crisis, partly or largely because of government policy. As Aman Sethi and Punya Priya Mitra wrote of the Mandsaur agitation, "the policy's effects are visible: demonetisation has disrupted every aspect of the rural economy — land markets, credit networks, procurement, and crop prices".
Notebandi was a policy that was entirely the making of the prime minister, Narendra Modi. And, as the tragedy in Mandsaur showed, Shivraj Singh Chouhan's government had not handled its fallout adequately. Here, again, was a chance to campaign in a sustained fashion and put the state and Union governments on the mat. What did Rahul Gandhi do? He visited Mandsaur for a few hours, came back to Delhi, and flew away to Europe.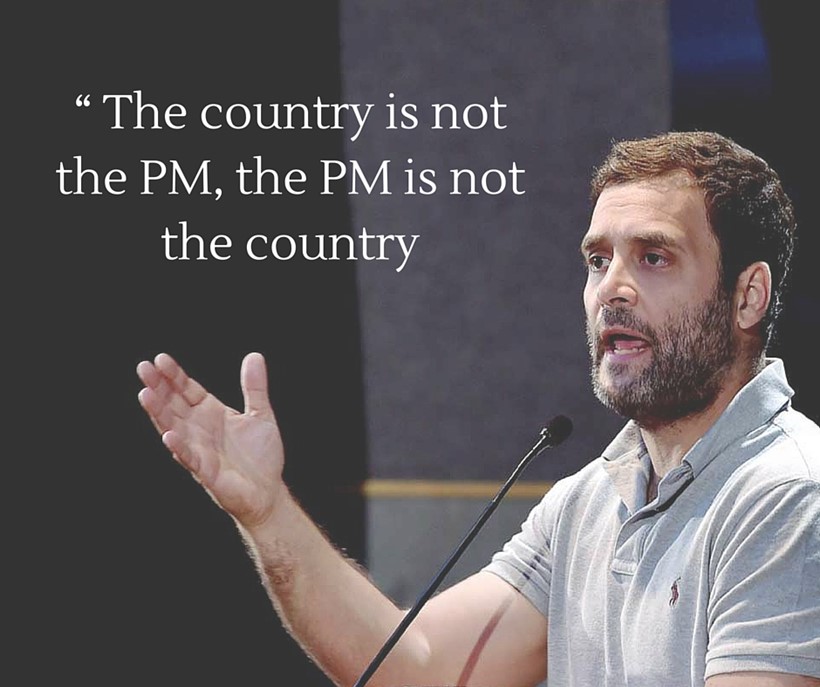 Rahul Gandhi reports to his mother, the Congress president. I have never met Sonia Gandhi, but am told she takes inspiration from the manner in which her own mother- in- law came back from political humiliation. Indira Gandhi and her Congress party were soundly defeated in the 1977 general elections. These elections were held in March; two months later, a group of Dalits were burnt to death by an upper- caste mob in Bihar. Indira Gandhi left Delhi immediately to go to Belchi, the village where the carnage had taken place. Because of heavy rain the village was unapproachable by car; so the former prime minister had to exchange her car for a jeep and, when this got stuck in the mud, for an elephant.
The dramatic manner of her visit to Belchi renewed Indira Gandhi's reputation as a friend of the poor and the needy. On returning from Bihar, she did not take a holiday ( although she loved the Himalayas even more deeply than her grandson loves Europe), but relentlessly attacked the ruling Janata regime. She travelled around India giving speeches on the rise in crime, and on the scarcity of food and essential commodities, holding the government responsible.
The Congress under Indira Gandhi lost power in March 1977 and regained it less than three years later. The Congress under Rajiv Gandhi lost power in November 1989 and regained it a little over two years later.
These parallels are widely invoked in Congress circles, giving them a sense of consolation. But to this historian the parallels are spurious. The current predicament of the Congress is far more acute than anything the party has faced before. Moreover, their current leadership is far less competent than it has ever been before.
Rahul Gandhi has now been in politics for 13 years. What are his achievements in this period? Sycophantic Congressmen seek to blame (the increasingly common) electoral defeats they suffer on others while attributing (the increasingly rare) electoral victories they enjoy to Rahul Gandhi. To the non-party observer, however, his political career so far has been entirely undistinguished. Perhaps the one modest success that can be specifically attributed to Rahul Gandhi was when the Congress won 21 seats in UP in the 2009 Lok Sabha elections, fighting alone. Otherwise, his career has been a string of silences, failures, missed opportunities and ventures in tragedy tourism.
A promising batsman who fails in one Test may be given another chance, and perhaps another. But three successive failures will surely mean that he is dumped. If one sees Rahul Gandhi's career in politics in cricketing terms, with each year equivalent to a Test match, then he has played 13 Tests, and scored one fifty amidst a string of zeroes and low scores. Yet he continues to be the side's opening batsman as well as captain- designate.
As a political leader, Rahul Gandhi lacks his mother's stamina, his father's charm, and his grandmother's courage, willpower, and understanding of India. Meanwhile, the leadership on the other side has become more intelligent, focused, and ruthless. Indira Gandhi's comeback was greatly aided by the incompetence of, and mutual animosity between, Morarji Desai and Charan Singh. Between 1989 and 1991, Rajiv Gandhi and the Congress had to contend with V. P. Singh and Devi Lal, neither of whom had a national presence, and who didn't get along either. On the other hand, the men who stand between the Congress and political power now are Narendra Modi and Amit Shah. Does Rahul Gandhi have the personal will and political intelligence to overcome and defeat them in election after election?
I do not think he has, and some intelligent Congressmen do not think so either, although they make the point in extremely euphemistic terms. In an interview last month, the former cabinet minister, Jairam Ramesh, said that " the Congress is facing an existential crisis". " We have to understand we are up against Mr Modi, Mr Shah," said Ramesh: " And they think differently, they act differently, and if we are not flexible in our approach, we will become irrelevant, frankly."
Ramesh's comments were widely noticed. Less noticed was an op- ed written by a younger Congressman in June. This argued that if the Bharatiya Janata Party won re- election in 2019, they might radically change the Constitution to facilitate the Hindu rashtra of their dreams. The writer was ( rightly) worried about this prospect, and urged his readers to help prevent it.
While warning of the dangers ahead, this Congressman observed that the " BJP had an aspirational narrative, an astute strategic approach, a compelling leader in Modi, boots on the ground and a real hunger for power". What was left unsaid was that, by contrast, the Congress has no narrative, no strategy, a lacklustre leader, few boots on the ground and no hunger for power.
Those who wish Indian democracy well but are not themselves in the Congress attribute the party's current crisis more directly to the family that controls it. I recently gave an interview to the website Slate. com, where I spoke of the decline of the Congress and what has caused it. A pseudonymous handle, expanding on my remarks, observed that while Nehru himself was " a flawed but great man", his descendants had fallen far short of him in personal character and/ or leadership ability.
This writer noted that the Congress had, over the years, "gone from the group that won India its independence, its accumulated goodwill giving it the government for [most of] the first fifty years of freedom, to being a national joke and irrelevance, one that cannot win even ten percent of the seats in the parliament. And still the remnants of the Congress cannot see past the blasted family, even past the present idiot son, who cannot open his mouth without uttering a fatuity. He's the go-to standby for jokes involving stupid people. And he's the leader of one of the two main national parties".
"Indian politics at the national level," this anonymous commentator continued, "presents the voter a choice between a hypercompetent religious thug, and an idiot boy whose sole virtue is that his great grandfather was a great statesman. Know that many people I know voted for Modi not because they like his religious views, but simply because the alternative is a boy with approximately the leadership chops of Sarah Palin. It's not the choice I'd make myself, but I do not blame them for holding their noses and making it." ( http:// www. slate. com/ articles/ news _ and_ politics/ interrogation/ 2017/ 08/ historian_ ramachandra_ guha_ reflects_ on_ india_ s_ evolution_ over_ the_ last_ seven. html).
Perhaps the language used here was excessively harsh. But that the assessment itself is accurate no objective observer of Indian politics can dispute. If the main Opposition party is led by such a manifestly incompetent politician, then the future of Indian democracy is dire. Who then will or can contain the diabolical, divisive, forces of the Hindu Right?
In that recent interview, Jairam Ramesh said, "Old slogans don't work, old formulas don't work, old mantras don't work. India has changed, the Congress party has to change." Placed where he is, he could not explicitly say that the leadership of the Congress has to change. But we can. The presence of Rahul Gandhi in national politics is an enormous asset to Amit Shah and Narendra Modi, and by the same token, a grave disadvantage to those who seek to oppose the BJP's hateful politics and uphold the values of the freedom struggle and the Constitution. For by being what he is, and by doing what he does, Nehru's great- grandson is directly and indirectly aiding the forces who wish to destroy Nehru's India.
Ramachandra Guha is an Indian historian and writer whose research interests include environmental, social, political and cricket history. He is also a columnist for The Telegraph and Hindustan Times. He can be contacted at: ramachandraguha@ yahoo.in