By Sharmista Mukherjee, September 13, 2017, in Deccan Chronicle
(The writer is chief spokesperson, Delhi Pradesh Congress Committee, and national media panelist, AICC. She is also the daughter of our immediate past President Pranab Mukherjee)
(Note: Swami Vivekananda was just an Indian youth in his thirties – he died at the age of 39. If any number of similar brainy intellectuals and visionaries among India's youth of today do not explode into greatness, is it not due to the lack great personalities like Ramakrishna Paramahamsa to provide the proper climate? And what is modi and his government doing by restricting or banning freedom of expression even in universities, by labelling dissenters as traitors, by turning a blind eye on those who exterminate critical thinkers, writers and editors (recent shooting of B'lore journalist Gauri Lankesh) and dissenting critics in the country?
In the context of Modi and Saffron Bhaktas being awarded or promoted on various fronts and a Nobel price winner like Amartya Sen viciously hounded down; writers and artists returning their awards in protest against brutal killing of rationalists; BJP ruled states suggesting removal of Tagore from school textbooks; Modi's former HRD minister banning study groups who disagree with ideology of the current regime. In short any public dissent in college campuses or among intellectuals outside labelled as anti-national, one legitimately wonders if, even a Vivekananda or Tagore could have survived in Modi era.
In spite of Modi being very smart, alert, resourceful and a better PM compared to many, he cannot fool all people, all time, on all things, especially on his failure to bridge the ever widening gap between his 'Say' and 'Do', his 'promise' of an "Acchhe Din" and his exhibition of "Bura Din"(dirty or ugly days). The sooner that gap is bridged, the better it would be for Modi Sarkar for a smooth ride into the future! james kottoor, editor ccv).
Please read below the article comparing Modi and Vivekananda!
The glaring difference between preaching and practice makes the PM's speech mere rhetoric without any intent.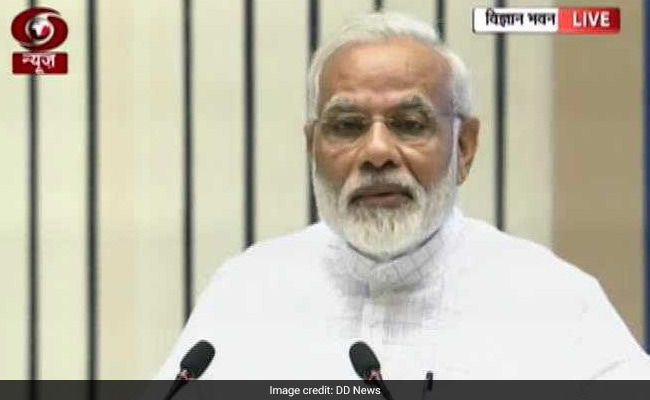 PM Modi addressed students to mark the 125th anniversary of Swami Vivekananda's Chicago speech.
Addressing the youth of India on the 124th anniversary of Swami Vivekananda's pathbreaking address to the Parliament of Religions in Chicago in 1893, Prime Minister Narendra Modi mentioned how on several occasions he was inspired by Swamiji's thoughts and philosophy.
During the 2014 Lok Sabha campaign, Mr Modi took time off from his hectic schedule to visit Belur Math and meditated in Swamiji's room, overlooking the vast expanse of the Hooghly, a tributary of the Ganga. In that ambience of pure serenity, did he reflect upon Swamiji's words? Did he contemplate how he was going to shoulder the immense responsibility if he was chosen to be India's Prime Minister? Did he think of ways and means to translate Swamiji's philosophy into action?
If he did, then as PM he has not only failed miserably to turn Swamiji's philosophy into government policy, but his party and its ideological fountainhead, the RSS, have done everything possible that is contrary to what Swami Vivekananda stands for.
While communal violence is hardly anything that is new to India, never before has it been so deliberately and blatantly fanned by inflammatory speeches and statements by members of the ruling party, including members of Parliament, and the larger Sangh Parivar. Mob lynching in the name of "gau raksha" have become commonplace. If a member of minority community dares to voice his feeling of insecurity amid an atmosphere of rising intolerance, he is immediately termed anti-national and asked to go to Pakistan.
Former vice-president Hamid Ansari too was not spared such humiliation and was (metaphorically) ripped apart by the BJP's troll army. One wonders what Mr Modi makes of the famous statement by Swamiji in his Chicago speech: "I am proud to belong to a religion which has taught the world both tolerance and universal acceptance. We believe not only in universal toleration, but we accept all religions as true".
One wonders why Mr Modi, a "strong Prime Minister", doesn't take strong action against party colleagues and others spreading communal hatred, which is totally contradictory to the philosophy of Swami Vivekananda. The glaring difference between preaching and practice makes the PM's speech mere rhetoric without intent. Or perhaps he is not as strong as his fans would like to believe? In his speech, the PM said: "There is no better place for creativity and innovation than university campuses. There is no life without creativity. Let our creativity also strengthen our nation and fulfil the aspirations of our people."
Does the PM realise that the most essential requirement for creativity and innovation is the spirit of freedom — freedom of quest, freedom to question well-established norms and paradigms, the freedom best manifested in youth. His former HRD minister didn't think twice about banning study groups, harassing students who don't agree with ideology of the current regime, ordering the police into university campus. Mr Modi talks about inculcating the spirit of creativity and innovation, but his government is bent upon killing the liberty to question, the spirit of free enquiry in youth.
Perhaps under the current regime, creativity and innovation could be cast only in a single mould, prescribed by the ideology of the ruling group. Creative people are the soul of a civilisation and the conscience-keepers of society. The wave of protests by writers and artistes returning awards to protest against the killings of rationalists was seen as an attempt to malign the government; and those individuals who have done the country proud through their achivements were ridiculed and defamed.
A legitimate means of expressing pain and horror; a non-violent protest to express the deep anguish that they felt in an atmosphere that strives to obliterate dissimilarities and silence dissent through violence, was promptly dismissed as "anti-national". In his speech, the Prime Minister mentioned, and correctly so, how Swami Vivekananda didn't refrain from criticising the shortcomings of the nation. In today's vicious atmosphere, had Swamiji been alive, he too would probably have been called anti-national by the vicious troll army, many of whom are "honoured" to be followed by the PM himself.
Mr Modi also invoked Rabindranath Tagore in his speech, perhaps to take a political dig at Mamata Banerjee, who had refused to follow UGC directions on the live-streaming of the PM's speech in educational institutions in West Bengal. Mr Modi talked about how Tagore had brought glory to India after he won the Nobel Prize, and the fact that both Tagore and Swami Vivekananda belong to Bengal. But Mr Modi forgot to mention another Bengali who is a Nobel Prize winner, Amartya Sen, who has been viciously hounded by the trolls and repeatedly attacked by the official spokespersons of his party for criticising the government.
Rabindranath Tagore's universalism, against the narrow parochial view of nationalism of the ruling party's ideologues, would be an anathema to the bhakts. Similarly, Tagore would have been utterly appalled by the hyper-nationalism prevalent in the country today. His famous novel Ghare-Baire deals with the phenomenon of hyper-nationalism even in the midst of the nationalist movement. RSS "historian" Dinanath Batra, who credits everything to the Vedic age, from stem-cell technology to the automobile industry, and whose books are being taught in the BJP-ruled states of Gujarat and Haryana, has even suggested removing Tagore from school textbooks.
Given a chance, the bhakts would perhaps like to ban Tagore and term him "anti-national" as well, though that will clearly spell the end of any attempts by the BJP of a political foray in West Bengal. It has been three years since Mr Modi assumed power. Rather than empty rhetoric, it's perhaps time for him to begin practising "raj dharma" — that another Prime Minister of his own party had once reminded him of. If he wants to be a true statesman, it's time for him to realise that he is not the Prime Minister of a political party; he is the Prime Minister of India!