What do you know about "Yes bank?" Yes Bank" to "No Bank", almost!
GEORGE NEDUPARAMBIL
A week ago I wrote to Gerge: "Dear George, You are a banker, can you please explain this to me, an ignorant know-nothing about banking. There may be more idiots like me. For their benefit, please write a brief letter to ccv editor, for the sake of public service. Thanks in advance and God bless. James" He is now responding to that request.
Founder arrested!
As of today 9/3/20/news is: Rana Kapoor founder of 'Yes-Bank- arrested for reeiving 600 crores as bribes in money laundering; Times ofIndia 9/3/20/reports. Nexus among politicians, bureaucrats, industrialists and bankers is legion in India, says a report. Also a close associate trying to fly out of India was arrested.
Each one teach one!
I thank George for sharing his banking experience and knowledge.For the rest I can only request readers to update themselves from websites and daily press reports. Also request more persons in the banking sector to enlighten us on this tricky cheating business called banking, as our motto should be: Each one teach one and learn from all. james kottoor, editor ccv
Please read it below George's contribution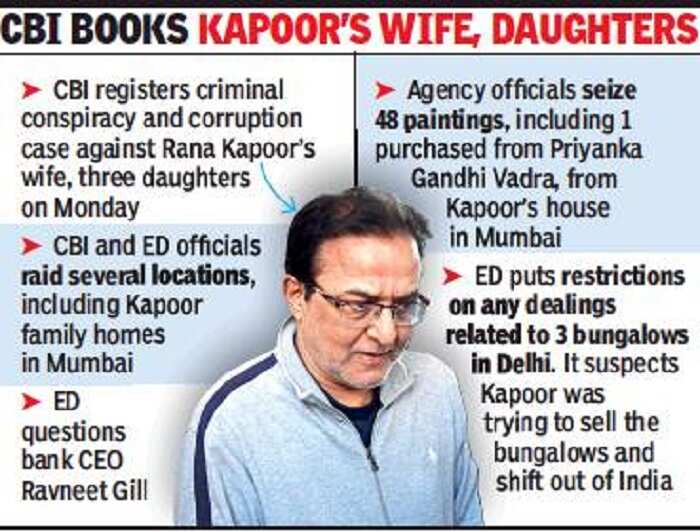 Photo Source: Times of India, 10 March 2020
Dear James,
You asked me to explain in simple lay man's terms what all these crisis is about Yes Bank.
Let us understand banking
A bank is an institution that collects deposits from depositors. These deposits are mainly in the form of Saving Account and Fixed Deposit Account. The business is based on trust. Depositors rely on the assurance of the bank that their money is safe with them. Money in the savings bank account can be taken out anytime. Consequently the interest payable on it is typically lower than those paid on fixed deposits. Fixed deposits get a higher rate over savings account as they are locked in for terms agreed such as 1 year, 2 years to 10 years. Fixed deposits can nevertheless be withdrawn prior to maturity subject to application of a penalty, typically 1 to 2%.
How bank is able to pay interest?
Bank lends depositors' money to businesses and individuals typically at an interest rate that is higher than its marginal cost of funds. Various elements go into the calculation of marginal cost. Typically the bank is required by Reserve Bank of India regulations to keep a percentage of its deposits in cash to meet customer withdrawal requests. Then the bank is required to hold certain investments in order to meet what is known as Statutory Reserve Requirements.
These requirements are set up by Reserve Bank of India. These investments too gather income less than the potential if the money was lent to a borrower instead. After meeting the cash reserve and statutory reserve the reminder is available for lending. It is on these lending that bank makes its money.
What Went Wrong?
Some of the large loans extended by the bank went non-performing, meaning that the borrowers defaulted on payment of installments and interest. How can bank pay interest to its depositors and also meet its various other expenses like rent, salary and other establishment expenses if it is not getting interest on its loans? This was the problem that caused the downfall of Yes Bank. Typically such difficulties are overcome by infusion of additional capital by promoters or other interested investors or by raising short term loans from market.
In the case of Yes Bank, the reported interest of some investors were not genuine interest. No one put in money. For a time any bank could hide its problems which is what Yes Bank did. But things became too apparent when insider trading happened and was noted by SEBI, the authorities that ensure fair play in share market. Insider trading refers to sale of shares through share market where the person selling the shares is an insider, typically top management members of the bank, and who has information that nobody outside knows about.
One such person who sold part of his share holdings was the chief of the bank, Mr. Rana Kapoor. Some other executive is also alleged to have sold shares. These sales fell into insider trading slot as these gentlemen had information, which others didn't have, that the bank was going down.
Bad Loans
These loans are reported to have been given to IL&FS, Dewan Housing, Jet Airways, Cox & Kings CG Power, Cafe Coffee Day among others. Each of these companies had their days of glory ending into ultimate collapse. Yes Bank was severely injured by loans to these companies going into NPA category. i.e. Non-performing Assets. The loans to Dewan Housing stands out as a special mention. Yes Bank is reported to have lent Rs 4450 Cr to them out of which Rs 750 Cr to a connected company called RKW. Enforcement Directorate is reported to have alleged that a kickback of Rs 600 was involved in the Dewan Housing loans. This kickback is alleged to have been routed through a company called Doit Urban Ventures reportedly controlled by Mr. Kapoor and two of his daughters (he has three). Mr. Kapoor has been detained by Enforcement Directorate (ED) and investigations are progressing with regard to his role in these transactions which has the characteristics of money laundering.
Mud Slinging Match
Yes Bank started operations in 2004 when UPA was in power. Troubles at the bank unraveled in 2020. BJP as usual is alleging that wrong doings started during UPA regime. They in turn allege BJP's mismanagement of the economy and lack of control for the collapse of the bank. Adding a bit of colour to the mudslinging is the reported purchase of a Priyanka Gandhi painting for a cool Rs 2 Cr by Mr. Rana Kapoor. How many of us know that Priyanka Gandhi's talent as a painter and that too high premium category?
The Role of Reserve Bank of India
I recall my days as a banker from 1966 to 1983 with a foreign bank in Mumbai. Auditors from Reserve Bank of India used to descend on us every year without fail. I am not sure how frequently Reserve Bank audits India incorporated banks. With the benefit of hindsight, one is persuaded to say that Reserve Bank as well as the Internal Auditors of the bank and External Auditors (private chartered accountant firms which every bank is required to appoint to audit their accounts) could have done better job of themselves and blew the whistle earlier.
Present Status
The bank is under the administration of Reserve Bank of India. The Finance Minister has assured that no depositor will loose his or her deposit. However, those investors of bonds issued by bank totaling Rs 10,800 will loose all of these amounts as the bonds constituted Tier I class which are totally unsecured and almost equal to the capital of the bank. In all probability, State Bank of India will end up owning the bank which is good news for account holders of Yes Bank but bad news for shareholders of State Bank of India. Also, people who survive on interest on their deposits at the bank could be staring at low rates for a long time to come.
Hopefully, no more bank bailouts will take place in India.
Disclaimer:The author has relied on information available in public domain and takes no responsibility for their accuracy. George Nedumparambil