in America the Jesuit Weekly
10 October 2018
Cover image: Protest outside Vatican by group calling for representation of women, Oct.3rd the opening day of Synod
Note: Pandora's box has opened already on the first day of the Synod? Already we had warned of thunder and lightning, on that day's editorial note on the Youth Synod.
We have to see this Youth Synod in the larger context of the latest Supreme Court verdict giving equal rights to men and women in places of worship.Church thinking has always been far behind civil law and enforcement in the case of sex abuse case of Franaco Mulakkal. On Sabarimala issue is it and its close ally Congress with the Supreme court?
The official Church which first spoke of keeping equal distance is now supporting or batting for Mulakkal. By official church we mean bishops who started speaking, except Bp. Bharanikulangara. So those who are not theological scholars may find the present change of mind in some bishops(time servers?) very very confusing.
Church lagging behind constantly
Experts in theology said long ago that Jesus never instituted priesthood, or the divisions in the church structure, which is all mans-made. For Jesus the SON OF MAN all irrespective of gender were and are equal as our Supreme court has declared. We always endorsed this principle and view.
The only thing permanent in things human is constant CHANGE IN THINGS HUMAN. Hence the accepted principle even in Church that it is to be reformed constantly (Ecclesia semper reformanda). It affirms without saying loudly Church is a HUMAN institution. So expect more thunder and lightning as the Synod moves forward. james kottoor, editor ccv.
Please read below Vatican-inside report
Last week, shouts of "Knock knock! Who's there? More than half the church!" echoed off the columns around St. Peter's Square.
A group of protestors, mostly women, gathered to call for women to be allowed to vote in the Synod on Youth, Young People and Vocational Discernment—a right that, some experts say, there is no canonical reason to deny.
The issue goes back to the 2015 Synod of Bishops on the Family. Up until that point, a man had to be ordained a priest, if not a bishop, in order to vote in a synod. Non-ordained representatives elected by their religious orders or appointed by the pope could participate in synod discussions, but they could not vote on resolutions.
For the 2015 synod, the Little Brothers of Jesus, a men's religious order, elected Brother Hervé Janson to represent them. Due to an accidental oversight, Brother Janson was allowed to vote on synod resolutions though he was not a priest, which raised questions about whether, at the next synod, the ordination requirement would be waived.
Father Thomas Reese, a columnist at the National Catholic Reporter and a former editor in chief of America, explained why allowing a brother to vote would raise questions about including religious sisters. "Under canon law, bishops and priests are 'clerics,' but brothers and sisters are not. They are laypeople," Father Reese wrote in an email to America.
This year, the Vatican starkly shifted the distinction between voting and non-voting members from one of ordination to one of sex.
Father Reese wrote that he asked Brother Janson at a 2015 press conference "why he, who was not a cleric, could be a voting member of the synod but a sister could not. He admitted he did not know and in fact supported having a sister as a voting member."
Brother Janson also said that he had considered turning down his invitation to the synod as an act of solidarity with women.This year, the Vatican starkly shifted the distinction between voting and non-voting members from one of ordination to one of sex.
Religious brothers, who are considered laypeople, can officially vote in this year's synod, but women's religious orders, who hold the same status, were not asked to elect representatives at all. About 10 per cent of the synod participants are women, all chosen by Pope Francis, and none are appointed with voting rights.
America's Vatican correspondent, Gerard O'Connell, said that according to canonical rules, bishops are the only ones allowed to vote in synods. "This time they allowed some men who are not bishops (but are almost all clerics) to vote, but that is an exception in relation to past practice," he stated. "Whether they will retain this practice or extend the voting right to women in another synod remains to be seen."
Cindy Wooden of Catholic News Service asked synod officials at a press conference why voting rights would not be extended to women this year, and they responded by pointing out that women are allowed to attend the synod as experts and observers, which they have done since the 1985 synod.
About 10 per cent of the synod participants are women, all chosen by Pope Francis, and none are appointed with voting rights.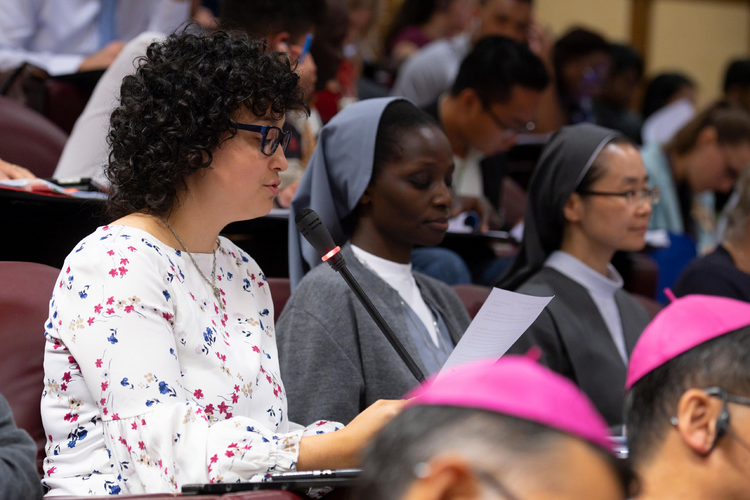 Sister Briana Santiago, a member of the Apostles of the Interior Life from San Antonio, speaks at a session of the Synod of Bishops on young people, the faith and vocational discernment at the Vatican Oct. 4. (CNS photo/Vatican Media)
Mr. O'Connell said that the synod's organizers may not have noticed that they had not granted women the right to vote and that Pope Francis may have overlooked the omission as well when approving the plans. "They haven't been used to thinking this way" about including women, Mr. O'Connell said.
Because the protest, which called on cardinals by name to allow women to vote, took place on the opening day of the synod, it seems unlikely that voting rights will be extended to women during the current synod, but some women involved in the synod process have hope that women will be given votes in the future.
Katie Prejean McGrady, a U.S. delegate to the pre-synod gathering, wrote to America,"I have hope that, by allowing non-ordained men to vote in this Synod, we'll see the inclusion of women voters someday soon. I keep reminding myself: the Church is a slow-moving ship. Things don't happen overnight or with the snap of a finger, and I can't get mad every single time I disagree with some procedure or process. So rather than be incredibly frustrated by the lack of women voters in this Synod, I'm going to remain hopeful that we'll have women voting in the next one."