ABDUCTED PRIEST RELEASED IN YEMEN
The Telegraph, Calcutta
13th September 2017
(Note: Good News, in fact Very Good News. Salesian priest, father Tom U
zhunnalil, who was abucted by suspected ISIS terrorists, from the Missionaries of Charity home in Aden, Yemen in March 2016 has been released, following long parleys of diplomatic negotiation. CCV readers would recollect how gun-totting terrorists brutally shot dead 16 persons at the old age home of Missionaries of Charity, in Aden Yemen on Friday 4th March 2016, including one nun of Indian origin. Fr Tom was at that time in another room at the centre.
The Missionaries of Charity, founded by Mother Teresa, have worked in Aden since 1992, and the order has three other centres in Sana'a, Taiz and Hodeidah. Three Catholic nuns were killed in Hodeidah in 1998, two from India and the third from the Philippines, at the hands of a member of Al-Islah Abdullah al-Nashiri, arguing that they were calling for conversion to Christianity. In 2002, three Americans were killed in Baptists Hospital at the hands of another Al-Islah member named Abed Abdul Razak Kamel. Survivors say that the hospital was "a political football" often raised by Islamists (Al-Islah), who talked about it in mosques and hospital workers describing Hospital workers as "spies". But they emphasized that these opinions are a minority among Yemenis.
In December 2015, a Catholic church in Aden was destroyed. Since the escalation of the Yemeni crisis in March 2015, six priests from John Bosco and twenty workers of charitable missions remained in the country.
While Father Tom's release is a huge relief for all the Christians in India, especially those in Kerala from where Father Tom hails, once again it is a strong reminder to all of us that God works miracles in His own way. Isaac Gomes, Church Citizens' Voice).
TELEGRAPH SPECIAL CORRESPONDENT New Delhi, Sept. 12: Oman has found and secured the release of Father Tom Uzhunnalil, a Salesian priest from Kottayam in Kerala, 18 months after he was abducted by suspected Islamic State terrorists from Yemen, following weeks of quiet negotiations, Indian officials said.
The priest was flown to Muscat today, Oman's information ministry said in a statement, and will soon return to India.
" I am happy to inform that Father Tom Uzhunnalil has been rescued," Sushma said on Twitter, next to an image of the bearded priest, his hands crossed over his chest.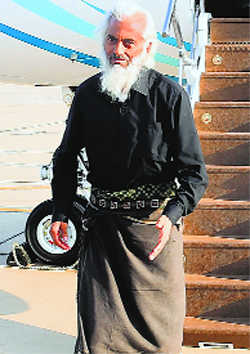 Father Tom Uzhunnalil gets off a plane in Muscat after his release. ( AFP)
The priest was abducted in March 2016 by gun- totting men after they attacked a Missionaries of Charity home in Aden and killed 15 nuns and staff members, including four from India.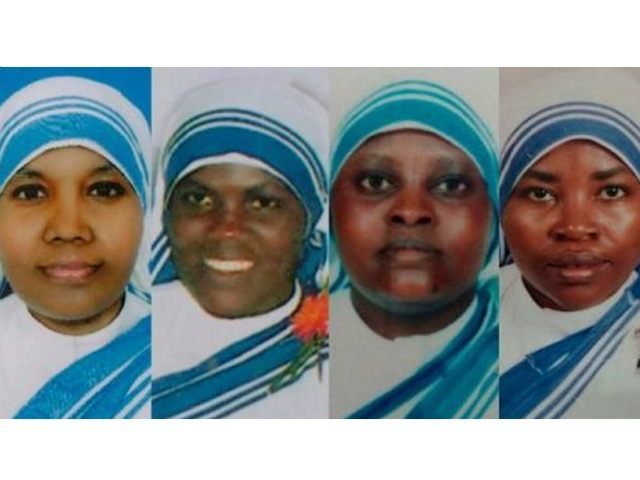 Yemen was — and is — in the middle of a brutal civil war, with the exiled government of Abdrabbuh Mansur Hadi, the Iran- backed Houthi rebels, the Islamic State and the Al- Qaeda in the Arabian Peninsula ( AQAP) locked in a four- way tussle for territory.
Since April 2015, India has not had an embassy in Sana'a, closed following a massive evacuation form Yemen. The chaos in the country, and the absence of an embassy, hobbled Indian attempts at finding the priest.
But Sushma, who has gained significant public goodwill for her pressure on Indian missions overseas to assist nationals in need of help, repeatedly insisted that the government was doing all it could. Last year, a video surfaced online, suggesting that the abductors had crucified the priest. The video was found fake.
On two subsequent occasions, the abductors released videos where the priest was pleading, with the Indian government and with the Vatican, to facilitate his release.
In July, Sushma hosted the deputy Prime Minister of Yemen, who declared that " as per available information, Father Tom was alive and the Yemen Government has been making all efforts to secure his release," the Indian foreign ministry said then.
By then, Indian officials said today, Hadi's government — which controls Aden — had tracked down the abductors of the Indian priest, and had indicated to New Delhi that they were open to facilitating his release. However, they indicated, they would need formal mediation by another government with the militants.
India reached out to Oman, which borders Yemen, and which mediated the priest's release.
" In compliance with His Majesty Sultan Qaboos bin Said, Oman in coordination with the Yemeni parties have managed find a Vatican priest," the Oman information ministry said today, referring to the Sultan of Oman.
" He has been transferred to Muscat from where he will return to his home in Kerala. " Officials refused to divulge whether the abductors made — and received — any ransom payment in exchange for the priest's release.
Footnote:
Received the following WhatsApp message from a priest:
The most merciful God used His Majesty Sultan Qaboos Bin Said to release Fr Tom. He was released and brought to Oman in the Sultan's personal flight.
The Sultan was had studied in India and our former President Dr. Shankar Dayal Sharma was his professor. The Sultan is very kind to Christians and he has magnanimously donated to the Churches in Oman whenever they were in need of funds.
May God bless the Sultan for his kindness.
Now Fr Tom has arrived in Rome for a few days' rest with the Salesians.