Justin Welby absorbs paternity news with characteristic calm
BY Harriet Sherwood Religion correspondent,in the Guardian,
Justin Welby has defined his tenure as the archbishop of Canterbury as an almost completely placid figure; calm, softly spoken and totally unflappable. They are traits that would have been alien in his upbringing.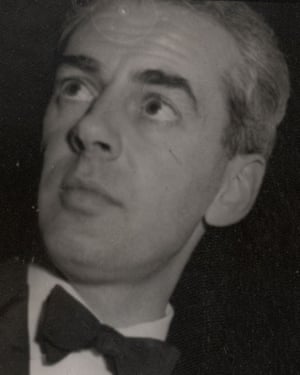 Sir Anthony Montague Browne. Photograph: Daily Mail/Rex/Shutterstock
It was revealed on Friday that for the past 60 years Welby has been mistaken in his belief that Gavin Welby, an alcoholic bully who was a key figure in his troubled childhood, was his biological father. A DNA test has proved that Welby is, in fact, the son of Sir Anthony Montague Browne, an aide to Winston Churchill.
Welby was born on 6 January 1956, almost nine months to the day after the sudden wedding of Jane Portal and Gavin Welby. Portal worked for Churchill as his private secretary. Welby Sr, the son of German Jewish immigrants, was a whisky salesman and something of a rogue. Both were heavy drinkers.
In a statement issued on Friday, Welby's mother – now Lady Williams – referred to her marriage as dysfunctional. "My ex-husband was a very strong, possessive character. At the end of March 1955 he was bullying me to leave my job as personal secretary to the prime minister and run away with him and marry him in the US where his divorce was being finalised.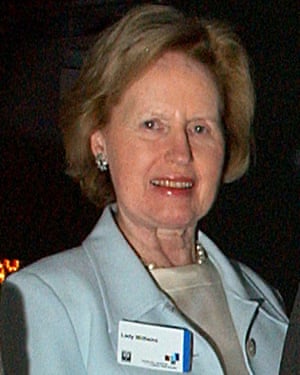 Lady Williams in 2003. Photograph: Fiona Hanson/PA
"At the age of 25, as I was, the pressure became too great and I found myself unable to resist."
Portal was drinking heavily, partly as a result of that pressure, and in the days before her elopement she had sex with Montague Browne. She said her recollection of events was "patchy"; both were drunk. "Precautions" were taken, but appeared to have failed. Portal had no idea she had conceived as a result of the liaison.
Welby's childhood was difficult from the start, "almost impossible", according to his mother's statement. The couple divorced when he was two, and he shuttled between them and his grandmother.
On BBC Radio 4's Desert Island Discs in 2014, Welby recalled a "grim" childhood Christmas with his father, who stayed in bed most of the day. "I think I went out once or twice but, you know, everything was closed. I didn't know really what to do with myself. I suspect I watched telly a bit and sort of scrounged around the fridge for something to eat. A sandwich? I can't remember. But it was a grim day."
He added: "As I grew up he was always unpredictable. Sometimes very full of rage and anger and expressing that very loudly. It felt very painful at times. But I didn't know anything else. So it felt that that's what happens in life. It's one of the bad bits."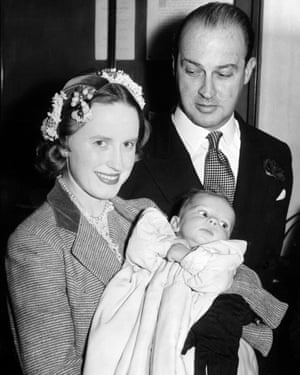 Jane and Gavin Welby with Justin at his christening. Photograph: PA
Welby was educated at Eton, where he was later described by his housemaster as "a model boy, though quite undistinguished". He then studied history and law at Trinity college, Cambridge, before working in the oil industry for 11 years.
"As a result of my parents' addictions my early life was messy, although I had the blessing and gift of a wonderful education and was cared for deeply by my grandmother, my mother once she was in recovery, and my father as far as he was able," Welby said in a statement on Friday.
His experience was not unusual, he added. "To be the child of families with great difficulties in relationships, with substance abuse or other matters, is far too normal."
His mother gave up drinking in 1968, and has not touched alcohol since. "I am enormously proud of her," said Welby in his statement. His father died as a result of alcohol and smoking in 1977, when Welby was 21.
Although the revelations about his paternity were a "complete surprise", Welby said that "in my life and in our marriage, Caroline [his wife] and I have had far worse".
He was referring to the death in 1983 of their first daughter, Johanna, in a car crash in France at the age of seven months. "It was a very dark time for … Caroline and myself, but in a strange way it actually brought us closer to God," he said later.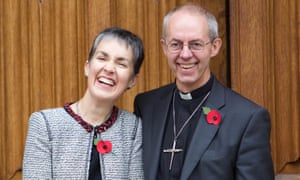 Welby with his wife, Caroline, in 2012. Photograph: Philip Toscano/PA
Welby became immersed in Holy Trinity Brompton, or HTB, the evangelical London church which seemed to hold a special attraction for young people with elite educations and high-flying jobs. He was ordained in 1992 and became archbishop of Canterbury in 2013.
Typical of Welby, he appears to have absorbed the truth about his paternity with remarkable equanimity. "My role as archbishop makes me constantly aware of the real and genuine pain and suffering of many around the world, which should be the main focus of our prayers," his statement said.
"Although there are elements of sadness, and even tragedy, in my father's case, this is a story of redemption and hope from a place of tumultuous difficulty and near despair in several lives. It is a testimony to the grace and power of Christ to liberate and redeem us; grace and power which is offered to every human being."