By Natalie Jamieson – Newsbeat entertainment reporter in BBC

It's recent history that's hard to stomach.
In 2002 a team of local reporters in Boston USA, proved that dozens of Catholic priests had been abusing children for years and that the Church had been systematically hiding it.
"It's incredible and it's the outrage of the story," says Mark Ruffalo, who plays one of the Spotlight reporters.
"I don't know why it remained covered up," he tells Newsbeat.
"I think that it was attributed to the power of the Catholic Church, the power of the communities where this was happening."
Mark Ruffalo's the Hollywood embodiment of Mike Rezendes, who still works as part of the Spotlight team at the Boston Globe.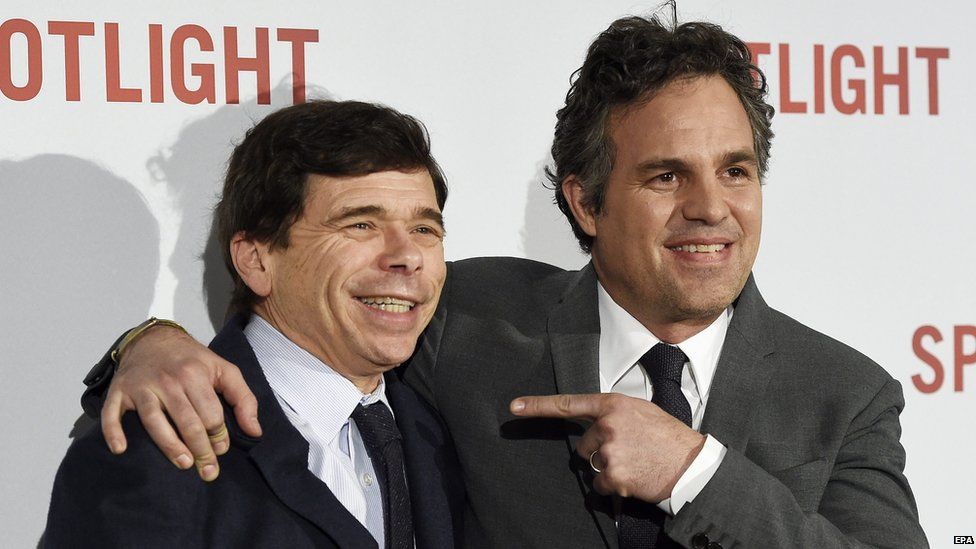 Image captionThe real Mike Rezendes on the left, the Hollywood version on the right
"I'm telling you this movie is remarkably true to the substance and spirit of what we did," says Mike.
"Of course there is some artistic license.
"The whole scene of us developing and compiling our database, you know in reality that was three and a half weeks of total drudgery and in the movie, because of the sensational editing by Tom McArdle, it seems thrilling."
Spotlight's awards are already piling up, with the latest being this weekend's Screen Actors Guild Award for outstanding performance by a cast in a motion picture.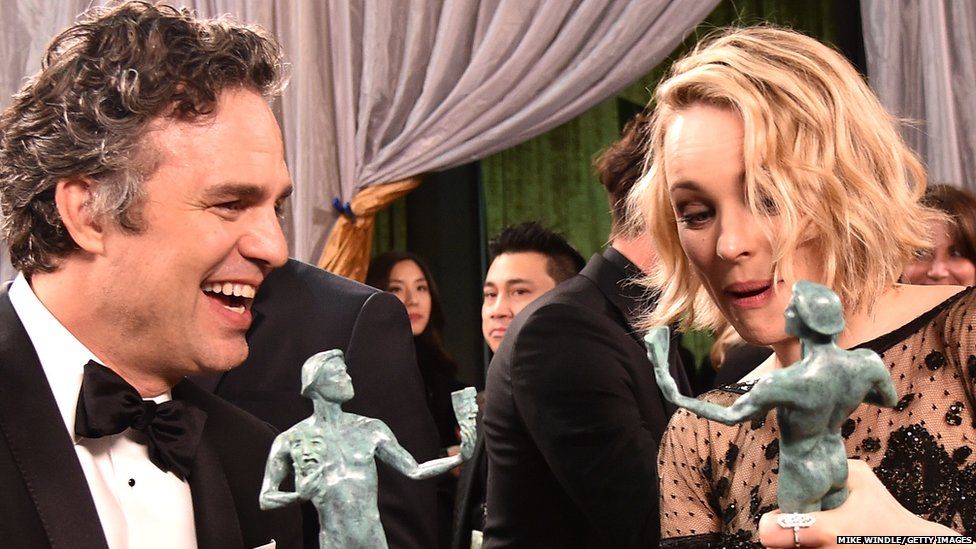 Image captionMark Ruffalo and Rachel McAdams play Ken and Barbie with their SAG Awards (probably)
The film, which also stars Rachel McAdams and Michael Keaton, is also nominated for six Oscars and three Baftas.
But how was the story received locally in Massachusetts when it broke 14 years ago?
Mike Rezendes says they expected a backlash for outing a dark side of the Catholic Church but it never came.
"We thought there would be protesters in front of the Globe," says Mike.
"But in fact devout Catholics called us and they said they were grateful for our work and they were really, really angry – but not at us.
"The reason they could understand, is that our stories were based on the Church's own internal documents.
"They were irrefutable and I think that has a lot to do with why there was no backlash at all," Mike adds.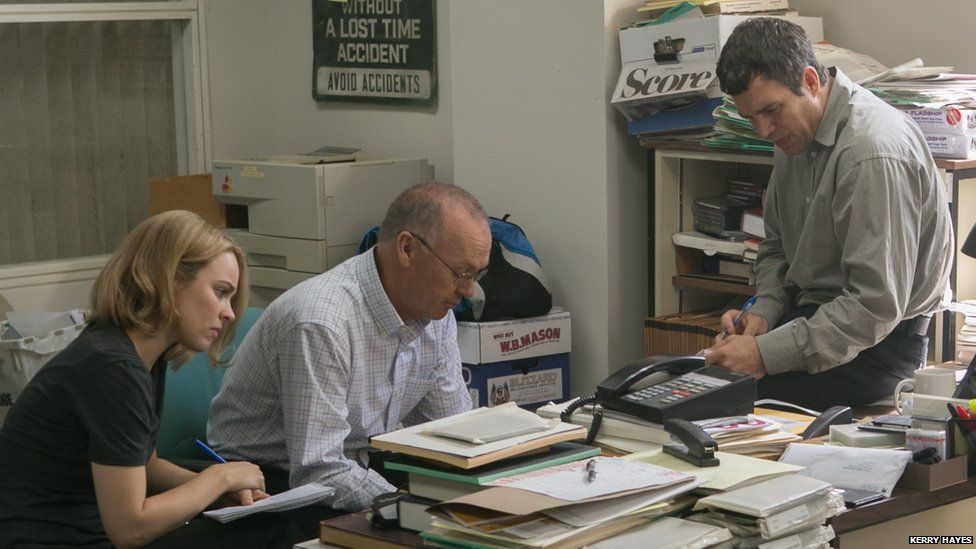 The Spotlight story started a global domino effect that led to further reporting of child abuse by some Catholic priests.
Stanley Tucci had the task of portraying the lawyer who represented many of the Boston victims.
"I know through Mitchell Garabedian, the character that I play, that the victims are thrilled with the film because they finally have a voice," says Stanley.
"They finally feel like there is somebody standing up for them and other victims are coming forward now because of the film."
"Even though we didn't talk about it a lot, it was in the back of our minds, 'we've got to get this one right'," Spotlight's director Tom McCarthy tells Newsbeat.
"With any movie, tone is crucial," says Tom, who also co-wrote the script with Josh Singer.
"With this particular movie there was the added burden of actually spending so much time with the reporters and the survivors and with everybody else.
"And we tried our best."