Isaac Gomes, Asso. Editor, Church Citizens' Voice reports from Kolkata on Fr Tom Uzhunnalil, the proverbial phoenix who has escaped from the jaws of death to testify that our God is a Living God. This report has been delayed as it was Fr Santosh Digal (of mattersindia.com), who through Fr Jothi SJ, had first requisitioned me for the report on Fr Tom's visit to Kolkata after his release from captivity. Cover image: Fr Tom gives his testimony at Auxilium Parish, Kolkata.
Salesian priest from Kerala, Fr Tom Uzhunnalil, who was released after 557 days of terrorist captivity in war-torn and lawless Yemen, was on a visit to Kolkata, like a phoenix risen from the ashes. On 25th February 2018, during a Thanksgiving Mass at Auxilium Parish, the only Salesian Parish and the largest in Kolkata, the faithful of the Archdiocese of Calcutta saw him in flesh and blood. The 5 pm Mass was well-attended by priests, religious (especially sisters from the Missionaries of Charity) and the faithful of Kolkata and suburbs. Fr Tom was the main celebrant, along with Archbishop Thomas D'Souza, Archbishop of Calcutta, Fr Dominic Gomes-Vicar General, Fr Moloy D'Costa, Financial Controller and Dean of Calcutta Archdiocese, Fr John Chalil-Parish Priest, Fr Mathew George, Fr Rudolf D'Souza, Fr Ramesh of Salesian Provincial House Kolkata, Fr Gregory Monteiro and other priests from the Archdiocese.
At Auxilium Parish Kolkata on 25th February 2018 at 5 pm Mass. Left to right: Archbishop Thomas D'Souza, Fr Mathew George, Fr Moloy D'Costa, Fr Tom Uzhunnalil, Fr Dominic Gomes and Fr John Chalil, Parish Priest. Other priests are on the left.
The Archbishop began on the note that in the olden days when apostles were taken into captivity, the Universal Church prayed in one voice for their release. When they were released, the whole Church reunited to thank the Lord for His protection. Similarly Fr Tom was abducted in Aden, Yemen on 4th March 2016 by terrorists after they brutally annihilated four utterly helpless nuns of the Missionaries of Charity (MC) and 12 co-workers, at the MC old-age home in Aden. The whole Church in India and the world, including people of different faiths, knocked on God's door for the safe return of Fr Tom. The Archbishop said today, Fr Tom wants to thank the Lord and all those who prayed incessantly for his release. On behalf of the Archdiocese of Calcutta, he welcomed Fr Tom with a bouquet.
In 1973 the Government of Yemen invited Mother Teresa to open her centres there to look after the hapless destitute. As Yemen did not permit the practice of any religion other than Islam, Mother Teresa pointed out that her congregation would come to work provided the Yemeni Government allowed Catholic priests to see to their spiritual needs. The Government acceded to Mother's request and thus four old-age centres were opened in Yemen, with Salesian priests assisting her sisters in Yemen from 1987 onwards.
In his testimony Fr Tom who belongs to Bangalore Salesian Province, said he was assigned in 2010 as Chaplain of the MC sisters in Aden, Yemen and also to cater to the local & migrant Christians. After a medical check-up in India in 2015, he went back to Yemen in June 2015 despite a travel ban by the Government of India in 2015 due to no government being in place in war-torn Yemen and the Indian Embassy having closed down its office there. But as Fr Tom's Provincial Fr Joyce Thonikuzhiyil sdb put it "Being the only Catholic priest in Yemen with a Religious Visa, he felt duty-bound to be with his faithful in their hour of crisis."
It was that fateful Friday 4th March 2016. Fr Tom was taking a walk in the MC old-age home compound. Suddenly he was confronted near the gate by a gunman, in army attire, his face covered, wearing a chain a magazines for an automatic silencer-fixed rifle which he held in his hand. On being brusquely questioned Fr Tom replied that he was an Indian. Fr Tom was made to sit on a chair outside the security room. The gunman saw the gardener running and shot him dead from the back. Then 3-4 more gunmen came. They saw the 12-year son of the cook in the security room and made him sit out beside Fr Tom. They went inside, took out two nuns, tied their hands with a plastic fastener and put them in a car. They took out two more nuns from inside and similarly shoved them in the car. After this they made the nuns walk and shot them on the head from behind. They also killed 12 workers of the old-age home. The four martyred MC sisters were: Sr. Anselm (Ranchi, 59 years), Sr. Reginette (Rwanda, 33 years), Sr. Judith (Kenya, 41 years) and Sr. Marguerite (Rwanda, 44 years).
From L-R: Sr. Anselm, Sr. Reginette, Sr. Judith, Sr. Marguerite. Credit: The Apostolic Vicariate of Southern Arabia.
Incidentally sister Judith was just a while ago in the kitchen cooking meal for the inmates, as the cook was unwell. The fifth nun Sr Sally who hid herself behind a large fridge in the storage room, miraculously escaped. Later she said most probably Mother Mary, saved her from the gunmen by putting a white shroud in between the assailants and her. After the heinous act, they took Fr Tom hostage and pushed him in the dickey of their car. He was blind-folded and shifted to several shelters.
As per the Independent dated 30 March 2016, a video demanding millions of dollars in return for the release of Fr Tom was reportedly sent to the Indian Government which was attempting to secure his release.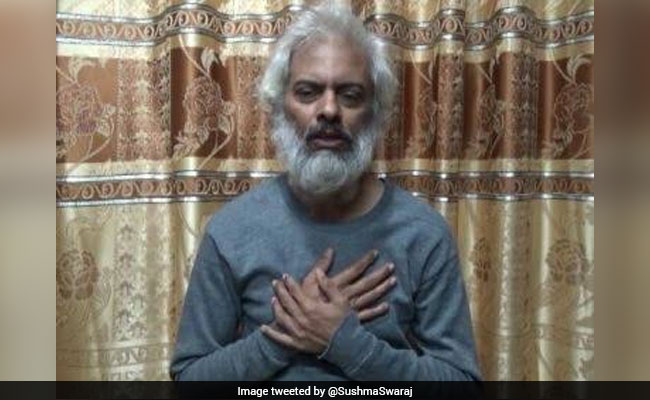 In May 2017, Father Uzhunnalil made an emotional appeal through a five-minute video that was posted on YouTube, asking the Indian government and the Pope to make an effort for his release. In his testimony Fr Tom confirmed these videos were taken on four-five occasions and the words spoken there were not his but what his captors had ordered him to say. On 10th September 2017 Fr Tom's captors told him that he was going to be released. They told him: "Get up…. change your clothes. Be quick. We got to go." Finally at 3.30 am on 12 September 2017, Fr Tom was released into Omani custody. On 12th September itself, after a brief rest, he was put on a plane to Rome, along with some Vatican officials who had come to Muscat. He reached Ciampino Airport in Rome around 5 pm and was driven to the Salesian Community inside the Vatican. Later when he met Pope Francis, he kissed Fr Tom's hands, twice. Normally the protocol is the other way round. Sharing his experience, he wept profusely before the Pope. Fr Tom returned to India on 28th September and visited Prime Minister Narendra Modi and External Affairs Minister Mrs Susma Swaraj for a courtesy call. The Prime Minister told him "Fr Tom welcome. How is your health? We are happy that you are here. Take care of your health now."
Fr Tom wonders why his captors did not kill him. May be God did not consider him worthy enough to be a martyr like the MC nuns; or may be God wanted him to stay alive to testify his release from the jaws of death. He said he lived by the song "One day at a time sweet Jesus that's all I am asking from you", daily Angelus, Rosary and Spiritual Holy Mass (without physical bread and wine as they were not available in his prision cell). He mentioned that 7 MC nuns are still braving it out in Yemen. He said all his teeth and bones were intact and when he was released he weighed 56 kgs. Now he weighs 76 kgs.
Fr Tom's testimony in this Lenten Season is very significant. It reinforces the fact that our God is a Living God and He does listen to our prayers which may not be granted immediately in this age of instant messaging.
There was a brief interaction with the gathered faithful. Sr Prema MC Superior General thanked Fr Tom for being with her sisters in their hour of distress. One lady from the audience told Fr Tom that when he was in captivity in the hands of unknown terrorists, she was working with the Ministry of External Affairs and that she personally requested Mrs Susma Swaraj, Minister of External Affairs, to try and ensure the release of Fr Tom. She said Mrs Susma Swaraj did keep her word.
The evening ended with the Archbishop taking the lead in singing "Oh Give Thanks to the Lord, for He is Good."
On 26th February Fr Tom offered a Mass at MC House in the presence of Sr Prema – MC Superior General and Sr Lysa, her deputy. He gave the same testimony as above. Mass intentions were offered for Fr Tom being a true witness of love and dedication, and for those who are in captivity and those who had become martyrs. After the Mass, there was a question-answer session with the sisters. Unlike the audience at Auxilium Parish, the sisters were very sprightly and actively participated in the session. One lady (overseas collaborator) asked Fr Tom whether any ransom was paid for his release. Fr Tom replied he was in no position to have any idea as he was always in captivity, most of the time blindfolded. However, he said whatever happened, happened with the full knowledge of the Sultan of Oman. To another question how his meeting with the Sultan was, he replied he never met the Sultan. He said that the WhatsApped photograph (of him with the Sultan) which was circulated like wild fire, was that of Sultan's portrait at Muscat Airport!
Fr Tom with Missionaries of Charity sisters
Fr Tom quipped how many sisters would volunteer to go to Yemen. To Sister Prema's pleasant surprise, almost all the sisters raised their hands!
Fr Tom praying with Sister Prema (on his right) and MC sisters at Mother Teresa's tomb on 26th February 2018
Fr Tom with Sister Prema (on his left) , Sister Lysa and other MC sisters at MC House on 26th February 2018
Note:
The Centre said no ransom amount was paid to kidnappers for the release of Father Tom Uzhunnalil and underlined that the Ministry of External Affairs "works quietly without noise, but ultimately gets the work done".
(Source: NDTV / Press Trust of India : 13th September 2017)