Human Rights: then and today's India! DECEMBER 10, 2018
Stirring reminders of the distance travelled and challenges ahead in securing human rights.
Paris flared — Paris, which the divine sun had sown with light, and where in glory waved the great future harvest of Truth and of Justice. Émile Zola, Paris; I asked my soul: What is Delhi? She replied: The world is the body and Delhi its life, Mirza Ghalib.
Note: December 10th was the 70th anniversary of UN declaration of Human Right declaration in Paris. In the article below Gopalkrishna Gandhi, former administrator, diplomat, governor and versatile writer, is making a thought-provoking comparison between what is happening today in Paris and Delhi after 70 years.
In Paris today people are out on the street protesting against the fuel price hike, while in Delhi thousands of farmers are protesting against the total neglect by government of the agricultural sector, due to which over 300 000 farmers have already committed suicide from 1998 to 2018, something which ought to have forced Modi government to do something drastic about it.
Neglet of Farmers in India
Business and industrial sector get tax-cuts from government, while agriculture gets diesel hikes, punishment, not perks: factories get investments, while farms do not even get minimum prices, which is an insult to human rights of the poor (farmers in India) described in Article 23 of the Universal declaration of Human Rights (UDHR) already 70 years ago, on December 10, 1948.
India lives in villages, 75 % of people, doing agriculture, sweating dawn to dusk to provide healthy food for the comfortable class. Still why the government punishes the farmers instead of taking special care of the farming sector, asks the writer.
Jai Jawan, Jai Kisan!
"Jai Jawan, Jai Kisan" (privileged treatment of those who defend and feed the country) used to be the election manifesto promises of some of the previous governments. Does Modi Motto 'Sab ka vikas sab ka sat' mean all except 'Jai Kisan' is the pointed question raised. Shouldn't this needs instant answer to be included in the election manifesto of parties – BJP or Congress — contesting the 2019 election? The burning questions torturing the hungry millions and millions of jobless youth in India are not Ram temple, Sabarimala, Hindutva, triple talak, common Civil code, Kashmir, super speed trains or world's tallest statues.
They are: gender equality, human rights, social, economic, political equality and human rights and elimination of all inequalities based on caste, class, creed and community. Does any of the political parties contesting to win the 2019 election think, speak or act on these issues? Will they provide clear answers to these questions contained in the (UDHR) and propose practical time-bound steps they intent to take during their next five five-year permit, after the 2019 election to serve the nation, not to lord over or loot the public, especially the poor to fatten themselves?
Farm loans & parliament discussion
Fuel price hike in Paris forced Macron to postpone the hike – too little too late – for six months. But in Delhi how did Modi respond to farmers' protest in Delhi? Just silence and inaction when caught in a trap? Protesting farmers were asking for farm loan waivers and for decent agricultural prices for their produce. Also they were demanding a parliament session to discuss what has been a key concept in the UDHR: dignity of farmers threatened by the agrarian crisis in India. What is a crime: to raise these just demands or stony silence from Government pretending they have not heard it?
Excuse for not acting!
Why has the UDHR's Right to human dignity for farmers not become a binding enforceable law in India? Because, in India Law makers and Conscience keepers here are poles apart and don't see eye to eye precisely to escape from the duty of acting on the plea that the government is not legally bound to act!
Election results in five states being released today, Dec.11, clearly points an accusinsg finger at BJP government's neglect of the agrarian sector distress and pampering of the industrialists and corporates as the main reasons for their opposition and alienation. What is just over is the semifinals to the 2019 elections. The Congress alliance is winning winning or scraping through in spite of their in-fights and lack of real unity.
Lesson for winning parties
The lesson for the "Grand alliance" is that they bury for good their private interest and craze for the PM's post first, which ought to be thought of and discussed only after 2019 election victory. Further the unshakable commitment of all parties in the alliance should be that the most deserving political leader in the Grand alliance would be elected, not selected, by blind ballot vote. If they expected to be elected by blind vote by the general public, they should practice it themselves.
If the grand alliance can come to such an agreement, victory in 2019 election would be certain for the alliance. What is more and great, that would be the greatest victory of and tribute to DEMOCRACY in India. james kottoor, editor ccv.
Please read below Gopalkrishna Gandhi's thought provoking article in the Hindu
---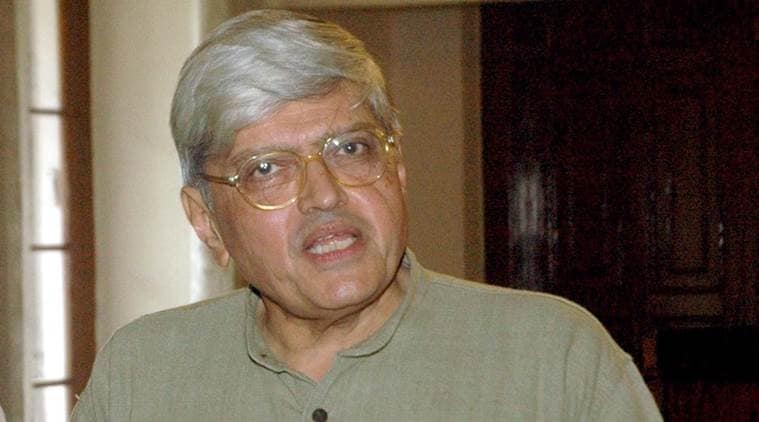 Gopal Krisna Gandhi
Exactly 70 years ago, on December 10, 1948, the UN General Assembly met in Paris. Delegates from the world's many ends met at the hilltop Palais de Chaillot and proclaimed the Universal Declaration of Human Rights (UDHR).
The text had been propelled by Eleanor Roosevelt as chair of the drafting committee, and honed by some of the finest minds, scholars, legal and political idealists, visionaries. Selected by Prime Minister Jawaharlal Nehru to represent India in the drafting exercise, Hansa Mehta from Gujarat brought to the exercise her own distinctive feminism. Seeing the draft Article 1, "All men are born free and equal in dignity and rights," Hansaben intervened to say the times had changed and the line should read, "All human beings are born free and equal in dignity and rights." Roosevelt applauded and embraced the amendment.
Human beings
In the post-Hitler, post-Hiroshima world that phrase meant more than any two could. The delegates to the Assembly nourished visions of a global transformation. But, given that of the 58 member-nations, as many as 10 including the Soviet Union, South Africa and Saudi Arabia abstained or did not vote, the delegates must have understood that a document as idealistic as theirs would run into conceptual difficulties and be chronically short in application.
But they could not have imagined that on the Declaration's 70th anniversary, Paris, the Declaration's birthplace, would be the venue of a flaming stir, with cars burning along the Champs-Élysées, bringing life in the French capital to a stop. And that, as Emile Chabal has shown in these pages (Editorial page, The Hindu, December 6, 2018), provincial France and even France's Indian Ocean island of La Réunion would see sit-ins, blockades. Over what? Not something sporadic or transient or 'local' but over issues at the heart of the Universal Declaration: dignity, justice and equality.
The 'Yellow Vest' Paris riots which have shaken French President Emmanuel Macron's government are about much more than fuel price hikes, the immediate trigger. Following the stunning outburst, French Prime Minister Édouard Philippe announced a six-month reprieve from the hike, only to be rebuffed by the protesters as "too little, too late". Damien Abad, one of the youngest elected members of the European Parliament, said, "What we are asking of you Mr. Prime Minister, is not a postponement. It's a change of course."
If in the days preceding the 70th anniversary of the UDHR, Paris saw scalding fire, Delhi saw a scorching ire. An unprecedented rally, with tens of thousands of farmers, men and women from all parts of India, catalysed by the intrepid spokesman for farmer and Dalit rights, Palagummi Sainath, and powered by kisan unions, converged in the national capital. They asked for farm loan waivers and for decent agricultural prices to be honoured. And then marching to Parliament, they demanded a session to discuss what has been a key concept in the UDHR: dignity. They asked that Parliament should discuss farmers' dignity threatened by the agrarian crisis in India which has led, from 1998 to 2018, to the suicides of some 300,000 farmers. Speaker after speaker at the rally spoke of agriculture being India's life, not just a feeder line.
The language used in Paris and Delhi has great similarities: business gets tax-cuts, agriculture gets diesel hikes. Factories get investments, farms do not even get minimum prices, affecting a human right described in Article 23 of the UDHR: "Everyone who works has the right to just and favourable remuneration ensuring for himself and his family an existence worthy of human dignity, and supplemented, if necessary, by other means of social protection."
Delhi's way
Even as leaders of almost all major Opposition parties joined the rally, Delhi's Aam Aadmi Party government led by Arvind Kejriwal bolstered it with moral and material support. Delhi, instead of being the target, became the very life, the soul, of the farmers' protest.
But Paris's flare and Delhi's glare notwithstanding, the Declaration is under severe strain, globally. Primarily because governments are, literally, laws unto themselves and also because the UDHR, though it has become part of the constitution and laws of several countries which attained independence after it was proclaimed, is not legally binding. It stirs a nation's conscience, not its laws. Law-makers and conscience-keepers coalesce but rarely. For most of the time, they are a species apart.
Curbs on dissenters can be seen around the globe, from China to Brazil, from India through Egypt and Turkey to the U.S. Myanmar which says 'no room' to its own Rohingya disregards Article 14, and Pakistan which hounds out Asia Bibi disregards Article 18.
Terrorism mutilates that most fundamental human right — to life. It has done that in India. On UDHR70 we mourn terror's victims in Kashmir, among who are brave defence and security personnel on duty. But on UDHR70 we grieve no less for the pellet-blinded, the collaterally killed innocents of the Valley.
Torture, physical and mental, has been used through time and around the globe by states and non-state tyrants. India, no exception to the gross pattern, signed, during I.K. Gujral's prime ministership, the UN Convention Against Torture. But subsequent governments of India have refrained from ratifying it. Why? Do they think custodial torture is an inherent — read 'internal' — prerogative of statehood which the world has no business commenting on? Emotional pain and fear can be felt in a myriad ways. Group-isolating can be incredibly painful, frightening. The reported acquisition of land in Assam's Goalpara district for a 'detention camp' has been denied by the government, but the prospect brings to mind detention scenes from the world's history of ethnic ghetto-ing.
Human rights violations are not a 'state-gone berserk thing' alone. Society violates it in India with vigour. If the invoking of 'sedition' reflects state intolerance, what is one to say of the murder in cold blood of dissenters and whistle-blowers? India bans in law but perpetuates in practice manual scavenging. It bans in law but lives with child marriage. It bans pre-natal gender screening but is unable to stop it and that which follows, female foeticide.
Crimes against women, children in India seem unabating. We are in shame, unforgivable, unredeemable shame, to cite extreme examples, over the rape and murder of Nirbhaya in the national capital and of a child in Kashmir's Kathua district. If the Kathua murder had bigotry lurking over it, the beheading of a 13-year-old Dalit girl in Tamil Nadu's Salem district was laced with caste contempt. The Indian woman, if she is Dalit, tribal or vulnerable in age or personal circumstance, is all the more at risk.
The Sentinelese's reflexive act against the misguided tourist who beached on their quiet shore has scarcely been appreciated by the average Indian. But he will applaud the ill-advised plan to convert that ecologically fragile archipelago into a dazzling tourist haven.
Rainbow on the horizon
But this anniversary must not let grim facts obscure the 'rights rainbow' on the sky.
India's judiciary is the first of its vibgyor colours. The Supreme Court's emphatic position on the right to privacy, among others, stands out. As does its sage extension of the deadline for those contesting their non-inclusion in the National Register of Citizens for Assam. Justice S.K. Kaul's order in the Madras High Court in the Perumal Murugan case, upholding the freedom of a writer to write, is something the UDHR would hail. Next, our Parliament, which has given us the Right to Information Act, following campaign advocacy by Aruna Roy and her colleagues. The third is that part of our media which will not be scared or suborned. The fourth, our security personnel, protecting our safety and our human rights activists protecting our liberty. The fifth, our creative cultural icons who will not surrender their autonomy. The sixth, our remarkable Constitution, B.R. Ambedkar's legacy.
And, finally, the seventh, vox populi! India's free elections are a 'UDHR asset'. The massive victory of the Left Front in Kerala's just-concluded panchayat elections, overcoming the right-wing lurch on Sabarimala, shows a silent majority's peaceable wisdom, and strength. Tomorrow, there will another unfurling of that rainbow.
Paris, on December 10, 1948, liberated rights from state and social shackles. They must stay liberated, and celebrated. (Gopalkrishna Gandhi is a former administrator, diplomat and governor)