Cover photo: Supporters of Franco Mulakkal waiting for his arrival in Jalandhar on Wednesday 17 October — Tribune photo
Bishop Franco Mulakkal Gets A Rousing Welcome At Jalandhar| Mathrubhumi News. See link:
https://youtu.be/o3pWmbQoBvg
Celebrations in Jalandhar by Franco Mulakkal supporters has literally gone overboard! Immediately after getting bail, it has done irreparable damage to the good name of his Church and his cause, writes Jiby J.Kattakayam in Times of India October 19. Offering a few unsolicited pieces of advice he writes:
1. His supporters are his worst enemies. The Kerala MLA PC George who sought to tarnish the victim's reputation, dealt the first blow to Mulakkal by ensuring that his comments got national attention. These supporters of Mulakkal who showered rose petals on him have again helped cast him and the Church in poor light.
2. The hero's welcome at Jalandhar to Franco Mulakkal who is being probed for multiple sexual assaults on a nun does the Catholic Church or Mulakkal little good. On being granted bail, Mulakkal could have chosen to stay away from Jalandhar, given that the Vatican had temporarily replaced him with Bishop Emeritus Agnelo Rufino Gracias.
3. If it were done after a charge sheet was filed the bishop and his supporters in Jalandhar would have faced the ignominy of a premature celebration.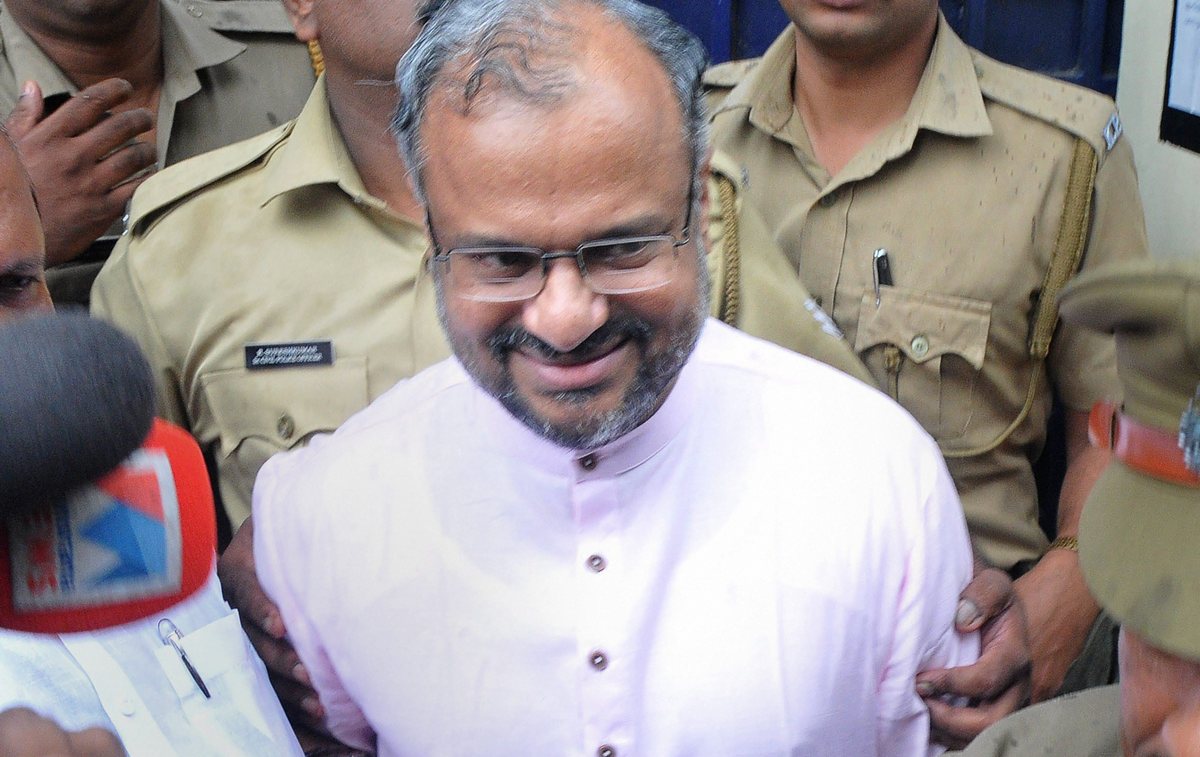 Charge sheet pending!
Charge Sheet Pending
4. Since Mulakkal was arrested on September 21 the Kerala police should have set for itself a December 21 deadline to file the charge sheet or closure report given that the CrPC implicitly envisages a 90 day deadline from the time of arrest for police to file a charge sheet.
5. Prolonging the procedure any further will only worsen the trauma of the victim and suspect. The whole episode also serves a warning to the Church. It must be sensitive to the plight of rape victims, quickly call for police probes, and must withdraw accused priests from administrative responsibilities and till the police file charge sheets or closure reports.
Blinded by royal glory!
What does this all this show? It only shows that the Church in India is still immersed in a dream world of its self-image of a "Church of glory, a triumphant Church!" That was so long ago when Constantine took over its reins in the fourth century to give the facelift, a royal façade and imperial glory.
Those who rule with divine authority think, they can never make mistakes, they think.That is the assumption. That is why none of them, except the bishop of Faridabad, dared to say a good word in favour of the exploited nuns. En block, the rest kept equal distance from the hunter and the hunted. None of them thought of visiting the convent of the sisters or those doing hunger strikes for weeks. Contrast it with the instance of Cardinal Baselius going all the way to West Bengal to visit and console an elderly sister raped by criminals.
Supported Franco
But some of them did not hesitate to break their silence and go eloquent in support of Franco. Some even went to visit him in the jail, not the striking sisters. Contrast it with some bishops making public statements or sending official letters to be read in parishes blaming the cloistered sisters for coming out into streets and bringing ill repute to the good name of the Church. Any good name left now? All good name, it appeared to us, got reduced to Zero in the Syromalabar church, we wrote long ago.
Also recall instances when Sisters took part in protest jathas in streets on many occasions at the behest of Bishops for causes dear to them. Why this double standard on the part of bishops who claim to represent Jesus the homeless Nazarene who bore witness to truth, the whole truth all alone. He always played the role of the Good Samaritan who took care of the wounded, left dying on the road side.
Where is a Baptist?
If Jesus ever founded a church, its leaders had to be defenders of TRUTH both in rain and shine like John the Baptist. For him it meant getting his severed head paraded in a golden plate in a dance party. Only such a truth can liberate, through death and resurrection, 'bear the cross and gain the crown' that liberates, even as the seed dies to give birth to a new life. But how can that have any attraction for the comfortable class of bishops or political leaders, who are driven by profit motive, what is in it for me?
Similar things are happening right under our nose in all organized religions, at Sabarimala, at Ram Janmaboomi, in Muthalk issue, to name a few. Church in India has lost sight of its Lok-purush, Adarsh purush, the IDEAL SON OF MAN, embracing the whole world with his out-stretched hands on the cross implementing his Nazareth Manifesto of preaching the good news to the poor and down trodden, constantly repeated by a much maligned Francis stretched on a bed of arrows like Bhishma?
Become a World Citizen first
How can we help Church men refocus on the 'crazy' Nazarene alone to tread the dusty road as one among one at the very bottom to raise his Cattle Class from their life of misery, pain and tears irrespective of their class, caste, colour, creed or country? This is the first question to be answered.
So become a World Citizen first in your mind and heart. That will eventually lead you to become a humane human being of brothers and sisters which alone will lead us all to everything more peaceful, more prosperous and more happy!
Contact at: jameskottoor@gmail.com, Mob:944 621 9203
************************