The Rev Libby Lane, a parish priest from Crewe, is the surprise choice for the Church of England's first female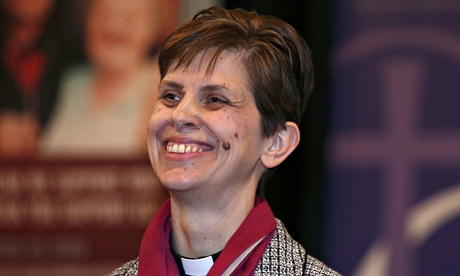 bishop. She has been appointed suffragan (assistant) bishop of Stockport, which the church counts as part of Chester diocese.
Her appointment brings to an end 22 years of resistance to the promotion of female priests. The General Synod decided in 1992 that women might be priests, but kept a glass ceiling in place, with the help of parliamentary exemptions from equality laws, for a further 22 years. This is at least 10 years more than anyone foresaw.
This appointment was the soonest that could possibly be made after the synod finally allowed women to become bishops in July this year. It took until November for the measure to become law.
As a suffragan bishop, Lane could be appointed without passing through the tangle of committee meetings required to choose a diocesan – one who has their own cathedral and may sit in the House of Lords.
Bishop of Chester, the Rt Rev Peter Forster, said she was the unanimous choice of the search committee. Her consecration will take place on 26 January 2015.
Lane said: "A remarkable day for me and a historic day for the church. Excited and a little daunted to be entrusted with such a ministry. Conscious of those recognised and unrecognised who have prayed and worked and suffered for this moment."
Congratulations were tweeted by the prime minister, David Cameron, who described it as "an historic appointment".