THE WIRE
16 December 2020
Himadri Ghosh
Kolkata: On December 1, BJP Rajya Sabha MP Subramanian Swamy wrote a letter to Prime Minister Narendra Modi urging that some words of National Anthem be replaced by the version of the 'Jana Gana Mana' composed by Netaji Subhash Chandra Bose's Indian National Army.
That version is called 'Subh Sukh Chain'.
Swamy wrote that the National Anthem – composed by Rabindranath Tagore – raised unnecessary "doubts" as to whom the poem was addressing.
"It is also inappropriate for post 1947 independent India – for example the reference to Sindh in the words of the national anthem," he wrote.
On December 12, Swamy shared the letter on Twitter along with a copy of acknowledgement from the prime minister.
On December 12, Swamy shared the letter on Twitter along with a copy of acknowledgement from the prime minister.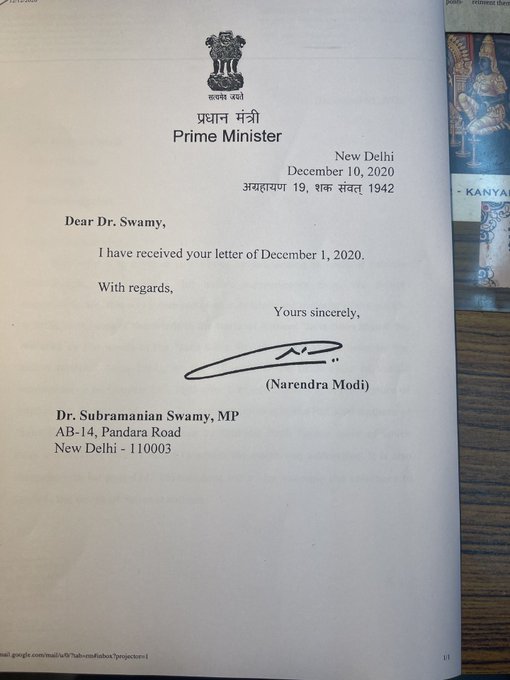 Interestingly, perhaps unbeknownst to Swamy, 'Subh Sukh Chain' too mentions 'Sindh' in the second line itself.
For a section of Bengalis, this request is an insult to Tagore.
Five-time Congress MP from Bengal, Adhir Ranjan Chowdhury hit back at Swamy and wrote a letter to the prime minister as well, stating that Swamy's letter both in "spirit and understanding is narrow, divisive and violates the deep national sentiment that exists on the subject matter."
"Swamy's understanding of Jana Gana Mana is too limited and narrow as he takes mere territorial understanding of the present India and hence, he considers 'Sindh' as a misfit in the post-1947 India. But India is not merely a territorial land, it is an ocean of cultures and ideas with an infinite capacity to knit together infinite pluralism in perfect harmony. Gurudev, as Rabindranath Tagore is loved and remembered, is our nation's pride and a global icon. He was primarily a humanistic thinker and his Jana Gana Mana only portrays the essence of humanism," Chowdhury wrote.
Rabindranath Tagore at work in his study at Santiniketan. Photo: Wikimedia Commons
Swamy's letter may have come a good 73 years since Independence, but the Bharatiya Janata Party to which he belongs and organisations ideologically similar to it has often been critical of Tagore and his ideas.
In 2017, Dinanath Batra, head of the Rashtriya Swayamsevak Sangh-affiliated Shiksha Sanskriti Utthan Nyas, recommended to the National Council of Educational Research and Training (NCERT) that Tagore's thoughts, especially those related to nationalism be removed from NCERT textbooks.