(Note: In the midst of hair-splitting and serious articles, CCV's Isaac Gomes, presents some lighter moments from the world of sports, for our readers).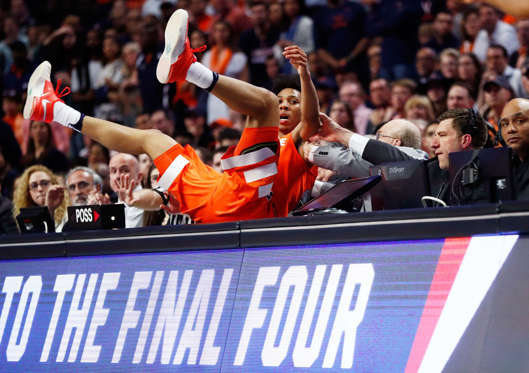 Malachi Richardson of the Syracuse Orange falls in the second half against the Virginia Cavaliers during the 2016 NCAA Men's Basketball Tournament Midwest Regional Final in Chicago, Illinois, U.S. on March 27, 2016.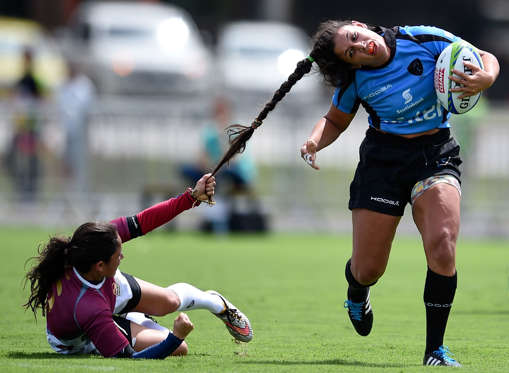 Maryoly Gamez (L) of Venezuela battles for the ball against Victoria Rios of Uruguay during the International Women's Rugby Sevens – Aquece Rio Test Event for the Rio 2016 Olympics in Rio de Janeiro, Brazil on March 6, 2016.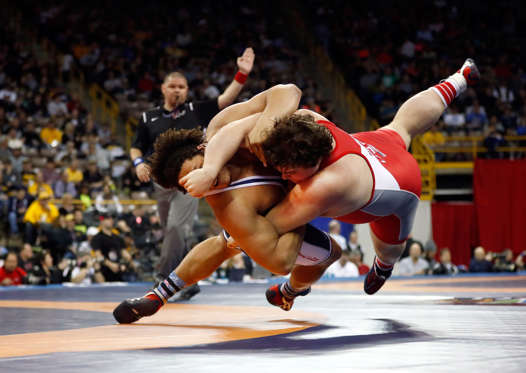 Parker Betts is tackled by Jacob Mitchell during their 286.6 pound (130kg) Greco-Roman challenge match at the 2016 U.S. Olympic Team Wrestling Trials in Iowa City, Iowa, U.S. on April 10, 2016.
Daisy Pearce (C) of Melbourne is tackled by Emily Bates and Delma Gisu (R) of Brisbane during the 2016 AFL Women's match between the Melbourne Demons and the Brisbane Lions at the Melbourne Cricket Ground, Australia on May 22, 2016.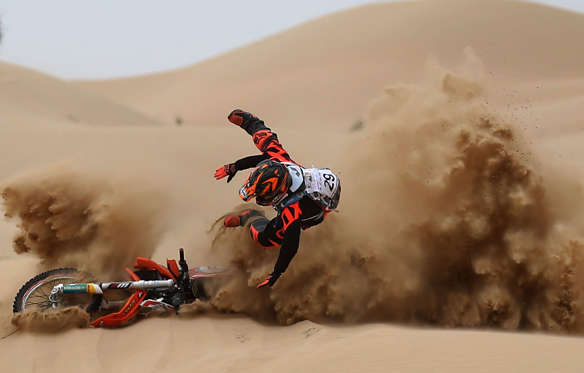 Mohammed Anis of India crashes during day two of the Dubai International Baja on March 11, 2017.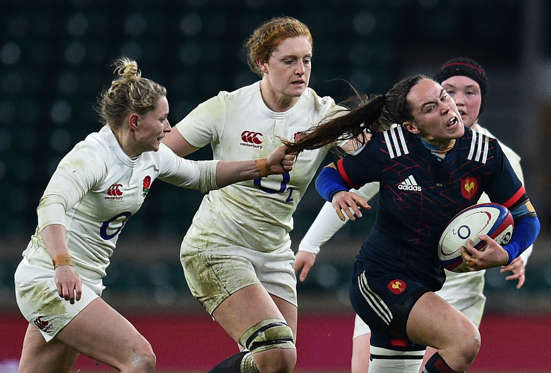 England's scrum-half Natasha Hunt (L) pulls France's scrum half Jade Le Pesq's hair during the Six Nations international women's rugby union match in London, U.K. on Feb. 4, 2017.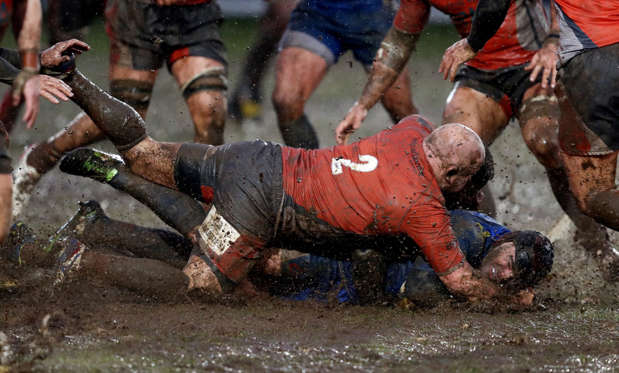 Newport Gwent Dragons' Adam Hughes is tackled by Newcastle Falcons' Scott Lawson (2) during the Anglo-Welsh Cup match in Newport, U.K. on Jan. 29, 2017.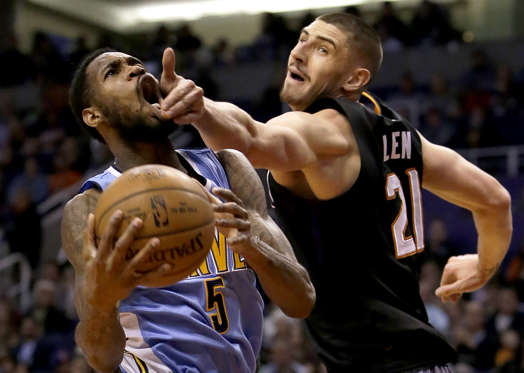 Denver Nuggets guard Will Barton (5) is fouled by Phoenix Suns center Alex Len in the first quarter during an NBA basketball game in Phoenix, Arizona, U.S. on Jan. 28, 2017.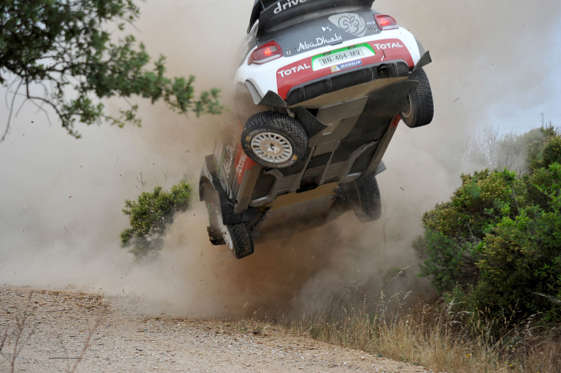 Kris Meeke of Great Britain and Paul Nagle of Ireland crash their Citroën DS3 WRC during Day One of the World Rally Championship (WRC) Italia Sardinia in Alghero, Italy on June 12, 2015.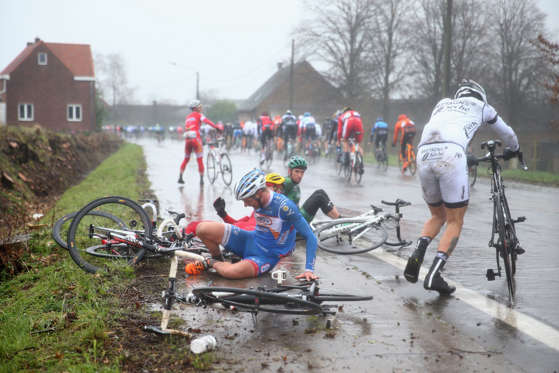 Riders crash in wet conditions during the Omloop Het Nieuwsblad on March 1, 2014 in Ghent, Belgium.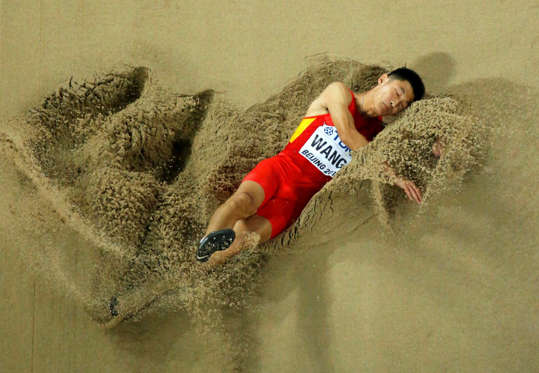 Ouch! Dust-ups in sports! Wang Jianan of China competes in the men's long jump final during the 15th IAAF World Championships at the National Stadium in Beijing, China, on Aug. 25, 2015.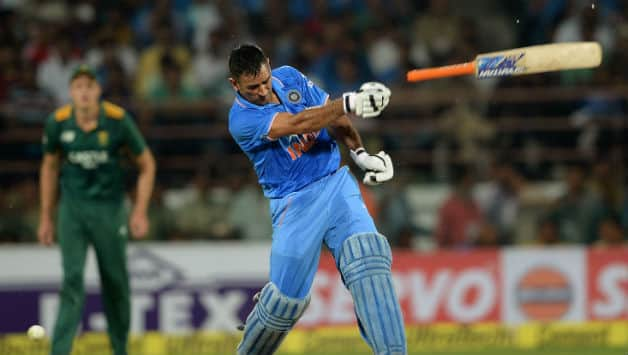 India's captain M.S. Dhoni sends his bat to fetch the ball from the boundary, with South African fast bowler wonderstruck at Dhoni's technique!