India's Punctured Democracy!
Cover image: A group of young students from Newman School in Neotan village of Changlang District in Arunachal Pradesh raised funds to help the victims of flood in eastern part of Arunachal Pradesh on 27 July 2016.
MATTERSINDIA
India's Complete Socioeconomic & Religious News
12 December 2020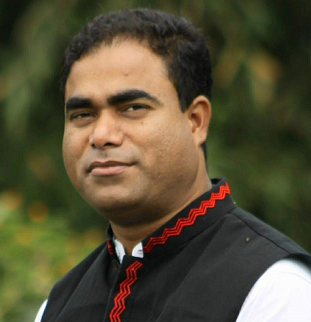 By Fr Felix Anthony
Miao: Prime Minister Narendra Modi extolled India as the 'mother of democracy' while laying the foundation for a new parliament building after performing a 'bhoomi pujan' (ground breaking ritual) guided by priests from the Sringeri Math in Karnataka, on December 10, Human Rights Day.
Required as it may be, what is the rationale behind starting a pompous project when the country grapples with pandemic, economic recession, joblessness and farmers' agitation?
Scant regard for the democratic values of the country has been the hallmark of the government of the day.
The futile demonetization exercise that has wrecked the economy like never before; the faulty implementation of what is supposed to have been simple Goods and Services Tax; the abrogation of Article 370 of the Constitution that gave special privileges to the people of Jammu and Kashmir; the brute introduction of Citizen Amendment Act; the overnight lockdown without giving people time to prepare; muzzling of dissent, violence on activists and peaceful protestors have all punctured the democratic values our country.
Mithun Nath, a local Bajarang Dal leader in Assam's Cachar district, has reportedly said that Hindus will be thrashed if they visited churches during Christmas.
The Indian Express newspaper on December 11 reported that the police in Kushinagar, Uttar Pradesh, stopped a wedding ceremony and took away the couple on suspicion that a Muslim man was marrying a Hindu woman after converting her. The police let them go only the next day, on December 9, after finding that both were Muslims. The man has alleged that the police beat him up with leather belts and tortured him for hours in the police station.
Elderly human rights activists are languishing in the jail for months without access to the basic requirements of sipper and spectacles.
The farmers of the country are out in the cold for weeks now protesting against new farming laws that they think will give them little bargaining power but allow the rich corporates to exploit them.
All these are symptoms of a sickness that has punctured our democracy.
If all this was not enough, Amitabh Kant, the chief of NITI Ayog, two days ago said that India was too much of a democracy that made tough reforms difficult to execute.
At the same time, Shivam Vij, a contributing editor for an online news portal, writes that India does not have too much democracy but too little of it and highlights how India has slipped from 27 in 2014 to 51 in 2019 on Democracy Index.
A punctured democracy cannot run just like a punctured wheel. A poor democracy index results in poor economic growth. The recent economic slowdown and recessions in decades and joblessness like never before are all reflecting poorly of the priorities of the government that wears its Hindutva agenda on its sleeves.
India is witnessing its worst human rights violation and going by the temperature that is being built up one might fear the worst is yet to come.
(Father Felix Anthony is a priest of Miao diocese in Arunachal Pradesh. He says the views expressed here are personal.)