Cover Photo: The Eiffel Tower is illuminated in Red, White and Blue in honour of the victims of the terrorist attacks Picture: Getty Images
LA CROIX INTERNATIONAL
PARIS, FRANCE
Bernard Gorce and Anne-Bénédicte Hoffner
October 11, 2017
Note: Several combative secular networks in France are taking a stand against the influence of Islamist networks and, more broadly, against the influence of religion on society today. This increase of tension demonstrates just how difficult any dialogue about these issues has become since the terrorist attacks of 2015. In the US, religion is very much personal. One does not have to mention one's religion while seeking admission in schools and colleges. But in India, this practice is very much prevalent. This article opens up a debate on the influence of religion on our society today. – Isaac Gomes, Asso. Editor, CCV.
Since the end of last week, secularism has once again become a battleground between community activists and political and intellectual leaders.
First of all, the new Grand Master of the Grand Orient of France (the largest Masonic organization in France) advocated the "necessity of a Republican rearmament" and announced that the Grand Orient of France is going "to go on the offensive once again" in order to defend secularism.
Then, the association Printemps Républicain (Republican Spring) and the International League against Racism and Anti-Semitism (LICRA) condemned Lyon 2 University's organization of a symposium on "Islamophobia" to be conducted by people these groups identify as Islamists.
Three newspapers then published, at the same time, articles about the danger of Islamism and its threat to the Republic.
Finally, former Prime Minister Manuel Valls denounced what he called "Islamo-leftists" and entered into a violent argument with the leftist MP Jean-Luc Mélenchon and his France Insoumise party (FI).
These rising tensions clearly demonstrate how contentious the issue of Islam's place in France has become. Two groups, in particular, are anathema to each other. These are, to quote the terms used by each to denigrate the other, the "islamophobes" and the "idiots useful to Islamism".
So, the first shots have been fired from the secularist camp. At the core of their anger is their belief that the dangers of Islamism to French society are being under-estimated.
The co-founder of Printemps Républicain, political scientist Laurent Bouvet, explains: "Some people just don't see that radicalization, whose most violent expression is terrorism, is a phenomenon that is also affecting groups that have a political view of Islam. This is nothing other than Islamism."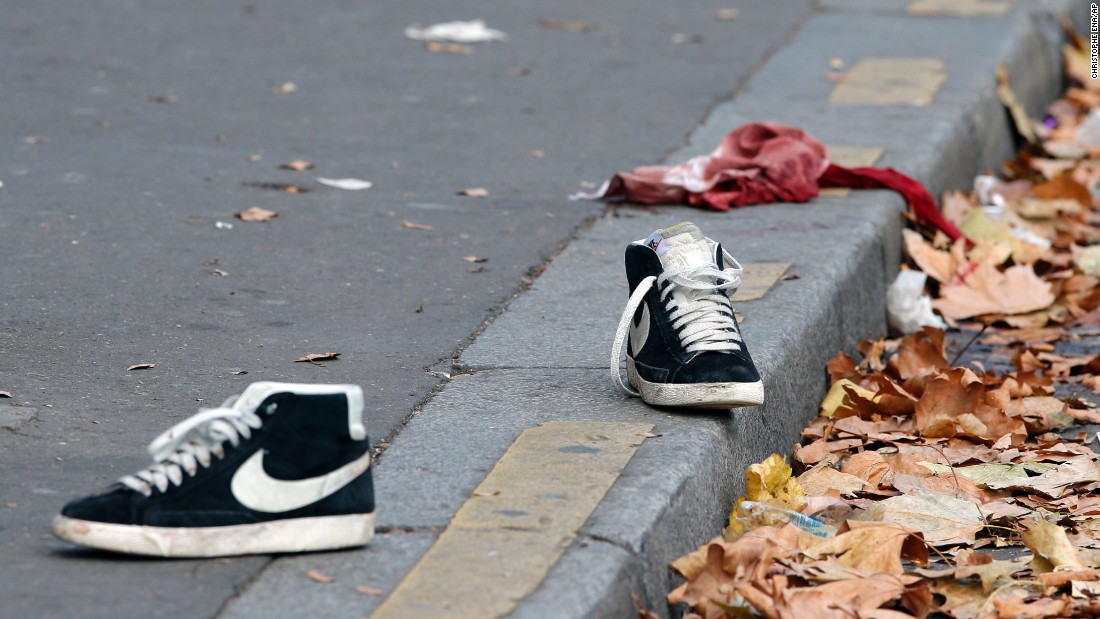 Shoes and a blood-stained shirt lie outide the Bataclan Concert Hall in the early hours of 14 November 2015. 129 people have been confirmed dead following the Friday, November 13, 2015, terror attacks in Paris. Photo CNN.
In the firing line of Printemps Républicain, supported by many intellectuals (such as Marcel Gauchet and Gilles Kepel) are Muslim organizations such as The Committee against Islamophobia in France (CCIF), which is militating against the law on religious symbols in schools. Exceedingly active on the internet, the CCIF is insisting on the idea of "Islamophobia" – that has been taken up by the extreme left – in order to discredit any criticism of Islam.
The rise to power of Macron, who is considered too liberal, is also a concern for militant secularists.
"Most of them just repeat the mistakes of their predecessors," Alain Jakubowicz, the President of LICRA, states angrily. "They think that higher employment will be enough to reduce the social problems that encourage radicalization. But they refuse to come to grips with the increasing demands of the community. The rise in racial and religious allegiances is a cancer in our society."
The association Coexister, created in 2009 to promote dialogue among different religions and established in 45 towns, is criticized for its close ties to the CCIF.
The co-founder of Coexister, Samuel Grzybowski, defends his association by stating, "We are deeply secular…. We are in the field, in communities. The CCIF, with its 14,000 members, is a mass movement. This gives it a certain legitimacy. Although we don't share their militant activism, we think that it's important to know what is at play behind this movement. Current attempts to prevent dialogue are a form of McCarthyism."
The Observatory of Secularism, presided over by Jean-Louis Bianco, is criticized for being too complacent about political Islam.
For its part, the Observatory condemns the excessive attacks of a handful of activists that it considers all too present in the media and especially on the internet. False accounts have been created to flood the internet with messages, potentially feeding into the openly racist sites that saturate the web.
It seems that all dialogue about Islam and secularism has been taken over by this battle between the extremes.
"There is a real Manichean opposition," complains Haoues Seniguer, Senior Lecturer in Political Science at Sciences-Po Lyon.
"On one side, there are those who are demanding more visibility for Islam in public spaces but who categorically reject any discussion of particular kinds of visibility. On the other side, there are those who reject any conspicuous signs of Islam as these are equated with 'Islamism'. There is a lot of confusion of terms!"
Since 2015, terrorist attacks have caused ordinary Muslims to be hypersensitive to any criticism at all.
"Muslims are in such a crisis," points out Jean Druel, the Director of the Dominican Institute of Eastern Studies, " and feel themselves so much under attack, that they are entrenched in the defensive. Any nuance is seen as a compromise and the slightest comment from non-Muslims is labeled as islamophobia."
The terrorist threat causes fear among Muslims and in French society in general, where secularists are becoming agitated, calling once again for all expressions of religion to be banned in public spaces. Over the past few years, there have been several attempts to impose religious neutrality on kindergartens and universities, and on businesses and community organizations.
"Secularism as we see it is not anti-religious," points out Laurent Bouvet. "We're not demanding any new laws. But we believe that it is not up to the State to take charge of inter-religious dialogue."
Here, he is alluding to the Minister of the Interior's intention to create a new national body where different religions would come together to promote harmony.
Alain Jakubowicz has no hesitation in declaring: "Religion must stay in its place – in private homes and in places of worship!"
Next week, LICRA is embarking on its autumn lectures in Le Havre on the unequivocal theme: "When religion infiltrates society." On its flyer, an image of a broken Goddess of Liberty, national symbol of the French Republic.
"In schools, hospitals, businesses, public services and the sporting arena, religions are mounting a huge offensive," Jakubowicz states.
In the last three days, many criticisms have been leveled against representatives of LICRA and members of Printemps Républicain.
"LICRA's ideas are the complete opposite of ours," emphasizes Samuel Grzybowski, of Coexister. "They think that religion has nothing to offer the common good. We think, on the contrary, that religion can contribute to the common good."